If you have ever used iPhone, you might know about Animoji. Animoji is an animated version of popular emoji characters that was introduced way back in 2017. The feature transforms classic emoji icons into short animations. What's more interesting is that the feature uses Apple's Face ID facial-recognition system to capture your facial expressions and puts it into the emoji icon.
Since it's an Apple exclusive feature, it was missing on Android. On Android, you can use different apps to replicate the same feature. Although not accurate, Supermoji can help you get Animjo like experience on any Android smartphone.
For those who don't know, Supermoji is an Android application that allows you to express yourself with brand new Emojis, Emoji Text, Font Styles and SuperMoji. The app is not entirely free, but a few of the features can be used for free.
Also read: 10 Best Emoji Apps For Android
How to Get Animoji On Any Android Smartphone in 2021
In this article, we will share a step-by-step guide on how to get Animoji on any Android smartphone. Let's check out.
Step 1. First of all, search for Supermoji on the Google Play Store and open the first app. Tap on the 'Install' button to install it on your smartphone.
Step 2. Once installed, open the Supermoji app on your Android. You will be asked to grant a few permissions. Make sure to grant all the permissions.
Step 3. Now you will see the main interface of SuperMoji. Select the Supermoji from the bottom of the screen and adjust your face on the facial recognition.
Step 4. Once done, tap on the 'Record' icon located at the bottom of the screen.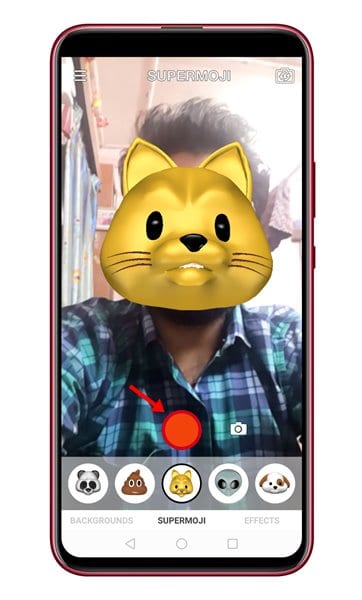 Step 5. Once done with the recording, tap on the 'Record' button again. You will now get the option to share or download the Animoji animation.
Note: Since SuperMoji is a free app, it has few bugs. Sometimes, the facial expressions were not captured well by the app. So, you might need to re-open the app to get the best results.
That's it! You are done. This is how you can get Animoji on any Android device.
So, this article is all about how to get Animoji on any Android smartphone. I hope this article helped you! Please share it with your friends also. If you have any doubts related to this, let us know in the comment box below.