If you have accidentally bought any app from Apple store then you can get the refund back for that by returning the purchase by report the problem option provided by apple. So follow the complete guide in the article.
You all might know that there are some apps that you have to pay for gaining access or downloading on both Google play store of android as well as iOS App store of Apple. We shall be discussing about the features of Apple iOS play store in this article. If you has bought up any app accidentally on your App store and now you are tensed about that, then you don't have to worry about that as Apple has integrated the feature in iOS app store by which you can easily get your money back. You just have to follow the instructions given in the article to know how you can also get your money back for the accidentally brought up paid apps. So have a look on complete guide discussed below to proceed.
Also Read: How To Share Windows Folders With iPhone Over LAN
How to Get Money Back for Apps that Bought Accidently from Apple
There are different methods that you can use to get your money back for the apps that you have bought accidentally from the Apple iOS app store. All the methods are discussed below.
Also Read: How To Use iPhone As Mouse and Keyboard
#1 Report Problem Webpage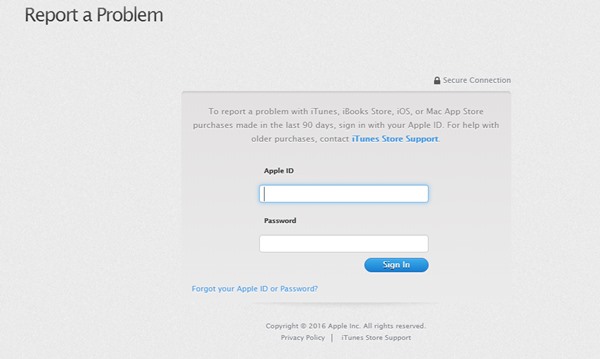 There is Apple's official webpage specially made for Reporting a Problem. Sign in with your account on that page and then follow through some of the options and then report your details for the problem. Submit the problem details and then wait for Apple to respond. Apple shall refund your money or ask you for more information through your provided email.
Also Read: Top 10 Best iPhone Apps For Developers or Programmers
#2 Receipt Email
You get the emailed receipt for the every purchase that you make through Apple iOS play store. Just find up the receipt either on your phone or on your Mac. Under the receipt you will find the option "Report a Problem" link. You have to click on that link and then Login to the account using Apple ID and password. After you are logged in you will get the area to specify your problem, fill up with the problem and then submit it. Wait for the response from the Apple.
You just have to reach the "Report a Problem" page through both the methods and then ask Apple for refund by giving valid reason. If you have a valid reason then Apple shall pay you back for the accidentally bought apps.
Also Read: How To Unlock Windows Computer from Android/iPhone
So this is all about How to Get Money Back for Apps that Bought Accidently from Apple. Follow the above ways and then write your problem to the Apple , after that you should keep on checking your email for any response from the Apple. That's all you has to do so that you can get your money back. Hope you like the guide, do share with others too. Leave a comment below if you have any related queries with this.