Checkout the best iPhone apps for developers and programmers that will help you to develop your skills in your free time by using your iphone which will be quite portable and handy. Have a look on the apps discussed below.
[dropcap]F[/dropcap]or users who love to code programs, we are here with Best iPhone Apps For Developers & Programmers. Today the time is of being intelligent and coding is the one thing for computer guys that make them smart to develop out all new things in a tech world. As all the apps and projects are based on coding and it can be either in any language. So, we are here with some apps that a coder or  programmer should have in their iPhone. So proceed with the complete guide below.
Also Read: Top 5 Best Audio Editing Apps For iPhone
Top 10 Best iPhone Apps For Developers or Programmers
These apps will help you to work on your project and you can also spend your free time on programming, this all can be done using your ios smartphone. So have a look on these apps below.
Also Read: Best Video Editing Apps For iPhone
This is one of my favorite app and best for all the programmers too. This app is for Python, Assembly, HTML, VB.NET, C, C++, C# (C Sharp), JavaScript, PHP, Java programming and is good for beginners to learn basic as well as advanced programming.
Examples presented in a simple and elegant way with compiled Output by our expert Team. This application contains a list of important and useful Programs.This app can also be used for studying for exams as well as for interview questions too. So must try this cool app in your device.

Features: 
Smooth and Elegant.
Categorized View
No Harmful Permissions REQUIRED.
Languages included are Java, Python, C, C++, C# (C Sharp), JavaScript, Assembly 8086, and PHP.
Periodic Updates with New Programs and New Programming Languages.
Also Read: 5 Best Security Apps That You Must Have In your iPhone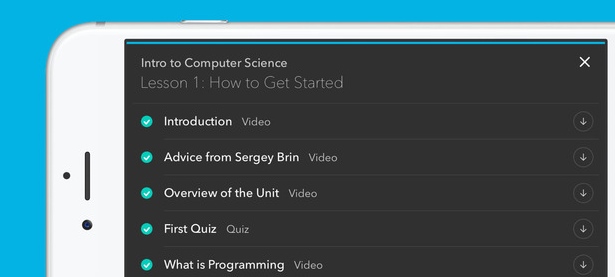 The another cool app that personally used by our team member, it's quite cool app that helps you in better coding experience. Using this app enjoy courses in the comfort of your own home, solve a programming problem at a coffee shop or answer short quizzes in the park. Udacity for iPhone is the learning experience that fits into your lifestyle.
Also Read: Best iPhone Apps to Help you Wake Up in the Morning
This C++ Programming app enables you to carry C++ programming Tutorials in your iPhone. It contains about 140 Programs, many FAQ's & Important Exam Questions.
This app has a very simple user interface and the contents can be easily understood by the users. This will definitely help u for preparing for interviews, tests and in many more ways
Features: 
Chapter wise complete C++ Tutorials
Programs with comments for better understanding (140 programs)
Output for each program
Categorized Questions and Answers
Important Exam Questions
Very simple User Interface
One click share (Tutorials and Programs)
Also Read: Top 10 Best iPhone Apps To Train your Brain
Learn Java is a comprehensive guide to one of the most popular programming languages in the world. And here's a bonus: Learn Java is FREE! The lessons in Learn Java lessons are fast, easy, and effective; the app is set up to be completed in less than three hours. No prior programming experience is needed.
Features:
Java Basics: Variables, Operators, etc.
Conditional Statements and Loops
Arrays
Classes and Objects
Encapsulation, Polymorphism, and Inheritance
Abstract Classes and Interfaces
Also Read: Top 10 Best iPhone Apps For College Students
Evernote is the modern workspace that syncs between all of your devices. Work everywhere and stay productive. Evernote gives you the tools to share, discuss and collaborate productively with others
Features:
• Write notes, checklists, and research
• Organize web articles, docs, and photos
• Discuss your work with others, right within the app
Also Read: Best iPhone Apps For Identifying Music Playing Around You
The another best app that you will surely love to try in your iPhone.  JavaScript Anywhere is one of the oldest development environment on iOS since 2010. It's a simple and portable editing tool for web engineers and designers.
Features :
 Write JavaScript, HTML and CSS source code.
Preview on internal browser.
 Import project / Download images form web.
 Send e-mail / iTunes file sharing to export.
 Configure editor styles.
 Password lock
 Simple server for Wi-Fi
 Export to / Import from Dropbox.
This is one of the most cool app that will help you to run different shell commands in it and  a free working environment to make certain practices in it. So must try out this cool app in your iOS device.
Cellica Database is the powerful and easy app so you can select your windows based database Tables, Views, Queries, Stored Procedure and added feature is that you can design the forms for it and sync from iPhone. And this is going to be greatly helpful for you so must try this out in your iPhone.
Also Read: Top 8 Best iPhone Apps That Pay You For Using Them
#9 Developers Tool Kit
This is the another great app that you will surely love if you love programming. The most compelling feature is the fully categorized ANSI UTF-8 Character set. Over 10,000 characters with official names, images, and numerous ways to display them in your code, files, etc.
Also Read: Top 10+ Best Weather Apps For iPhone You Need To Try Today
The Typography Manual is a pocket resource for graphic designers and anyone that works with type. It provides all the essentials of a book reference on your iPhone or iPod Touch. And that is why it is consider as one of the best choice for the designers,
Also Read: Top 5 Best iPhone Apps To Increase Internet Speed
So above are all Top Best iPhone Apps For Developers/Programmers. With this apps, you can create up a better coding environment in your ios device. As best coding environment leads to best logics that programmer's always need. So use this app and have fun with your iPhone with your mew projects to be a better coder.