If you have been reading tech news for a while, then you might know about Google Play Music. Google had confirmed that they are shutting down Google Play Music this year with YouTube Music as its successor. The move came as no surprise because YouTube is right now the most popular video and on-demand music website in the world.
Apart from that, YouTube Music is also getting lots of Google Play Music features like you can upload your own music. Provided that YouTube Music serves as a great Google Play Music alternative, lots of users were left unsatisfied.
So, if you are also unsatisfied with the latest moves from Google, then let me tell you that you have lots of options to consider. There are plenty of Google Play Music alternatives out there that can satisfy your music needs.
10 Best Google Play Music Alternatives For Android in 2020
In this article, we are going to explore some of the best Google Play Music alternatives in 2020 that would satisfy all your music-related needs. You can use these apps to play local music files or can choose to stream music online. So, let's check out the best Google Play Music alternatives in 2020.
Well, YouTube Music is the best music app available for Android smartphones. The app is made by Google, and it was officially introduced as a Google Play Music alternative. It lets you find the songs and videos you are looking for. Not only that, but it also shows you playlists and recommendations based on your context, taste, and what's trending in your region.
It's right now the best music streaming app available for both iOS and Android smartphones. On Spotify, you can listen to millions of songs and podcasts for free. Apart from the songs, the app lets you discover and listen to your favorite podcasts across Music, Educational, Games, Lifestyle & Health. With the premium account, you can also download music for offline playback.
If you are living in India and searching for a perfect Google Play Music alternative, then Gaana might be the best pick for you. The app provides you free, unlimited online access to popular Hindi songs, Bollywood Music, Regional Music, Radio & Video song. There are over 45 million MP3 songs on the app, which you can listen for free.
Well, Amazon Music is not a free app like Google Play Music, but it's the best one on the list. It requires Prime Membership to access over 60 million songs. With the Prime membership, you will get ad-free listening experience, offline listening, unlimited skips, etc.
There's always a rivalry between Apple and Android. Still, Apple has a music app published on Google Play Store known as Apple Music. Apple Music for Android is known for its massive library of over 60 million songs. The app lets you listen to both on-demand content and radio stations. Not only that, but you can also upload your music on Apple Music.
Before Spotify, SoundCloud used to be the best Android app to stream music. However, the app lost its charm amid competition. When it comes to music content, SoundCloud has a vast collection to offer. You will find both regional and international content on SoundCloud. It has both premium and free plans. The free account has some restrictions, but it would satisfy your daily music needs.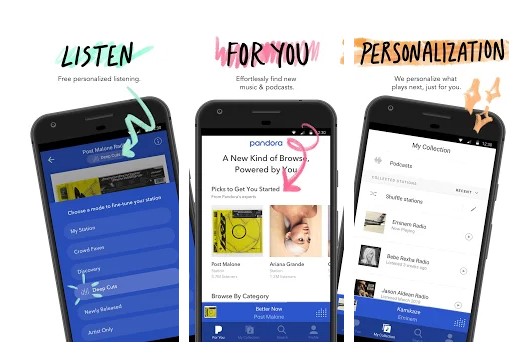 It's a premium app on the list where you need to subscribe to a monthly package to access the tracks. Pandora is known for its attractive user interface, and it lets you stream music in high quality. The only drawback of Pandora is that it's not available in every region.
Well, if you are searching for a music streaming platform to discover new music, then TIDAL Music might be the best app for you. TIDAL Music is one of the largest music streaming catalog available out there for Android. It's an entirely free app, and it doesn't show any ads.
It doesn't serve as a perfect Google Play Music alternative; still, it gets its job done. To stream music, you need to choose the option to sing along with the song. In this way, you can stream music for free. It's a music identifier app which helps you to identify songs playing around you.
If you are living in India and using Reliance JIO telecom service, then your search for the music streaming app ends here. JioSaavn Music serves as the best way to listen to all your music, radio, and podcasts for free. The app offers unlimited music, skips, etc. Not only that, but you can also set your favorite songs as JioTunes. However, you need to be an active Jio subscriber to access the service for free.
So, these are the ten best Google Play Music Alternatives in 2020 that you can use right now. I hope this article helped you! Share it with your friends also.