Learn How To Hide Photos And Videos On iPhone: we will learn how to hide your data from any other unauthorized access. We are going to tell you two methods that will help you hide Photos & Videos on your iPhone. Go through the post to know about it.
[dropcap]T[/dropcap]oday there are millions of users who are using iPhone. Now in this post, I am going to tell you the method to hide photos and videos on iPhone as we all want privacy in our contents. As there are many media like our personal pictures, videos, and recording which we never crave to share with any other person, but we do share our phone with our friends, family members and natives for some of the reasons. And at that time, our privacy gets in crisis and we always want something that secures our content. So in this post, I will tell you the method to hide files on your iPhone, with that you can comfortably hide selective files which you don't want to share with others.
Also Read: How To Quickly Track And Find Your Lost iPhone or iPad
How To Hide Photos & Videos On iPhone
There are tow methods by which you can easily hide your photos and videos in your iPhone, one is by third party app and another by without any app.
#1 Method : Without Using Any Third Party App
Today there are no. of the app there available by which you can secure your data with the password, but in this method, i will tell you a trick by which you can easily hide any photos etc in your iphone.
Also Read: How To Unlock or Bypass Any iPhone Passcode
How To Hide Photos?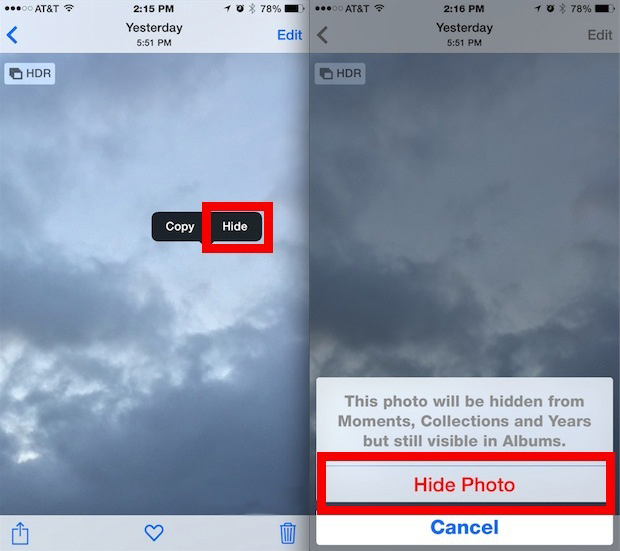 You need to open the photos as you normally browse your photos.
Now open your desired photo that you want to hide from your Photo albums
Now you need to Tap and hold on the selected pictures that you wish to hide. It will bring up two actions "Copy" and "Hide"
Now you need to tap on "Hide" and select "Hide Photo" as confirmation pop-up.
That's it you had successfully hidden a photo from your Photo album
How to Unhide Photos?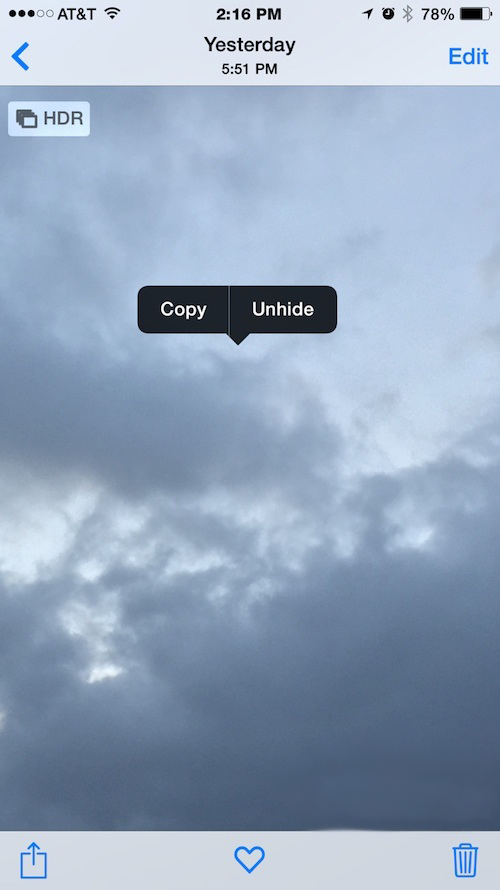 Open the Photo app and select "Album" view
You need to find a folder named "Hidden"
You need to open the folder and you will see all your hidden photos in that folder.
Now simply tap and hold on that photo and select the option of "Unhide"
By this way, you can unhide your Photos.
#2 Method : Using Third Party Apps
Below are the best 4 iPhone apps that will make your data private that is you can only access the data with a passcode that you will set.
Private Photo Vault is one of the best free application to protect your personal photos and videos by password/pattern-locking. This feature-rich app allows easy album organization by allowing you to transfer images and videos from iPhone's photo app to your new protected album. All you need to do is select photos you want to hide and password-protect them on your private album.
Unlike other apps, Gallery Lock Lite lets you put the app icon in "Stealth Mode," so it doesn't appear on your phone. If you opt for this feature, you'll have to access the app by typing in an asterisk, your password and pressing "Call." Gallery Lock Lite will also catch a photo of any intruder with your phone's front-facing camera after three failed password attempts.
Also Read: Top 10 Best iPhone Apps for Beginners
My Secret Folder is a great app that can help you keep your stuff like photos private by allowing you to add a passcode. The application can be used for saving any information like photos, contacts, notes, videos, clips, songs and even movies. The application also offers additional feature by letting you know if someone tried to access your private photos but ended up entering the wrong passcode. The app will also take their photo and save on your phone for you to know about the incident.
This is the one of the best iPhone data safety apps which provides much privacy to all the user data. It has a nice little private camera feature that lets you take pictures and hide them directly into the app, no need to spend time protecting any pictures manually.
Also Read: Here is How To Increase The Storage of iPhone For Free
So above are the two methods to hide photos videos etc On iPhone. You can easily hide your private data to be accessed by any other person by using these methods. And also, this will save your data from any other unauthorized access. Don't forget to share this post.