Those days are gone when we used to take offline classes to learn new skills or gain knowledge. These days, there are many valuable learning resources available on the web that can help you hone your existing skills or learn new ones.
Various websites are available on the web that provides you with free and premium courses. You just need to join such sites and subscribe to a free package. Or else, if you are very serious about learning something new, you can consider purchasing premium courses.
Best iPhone Apps for Free Online Courses
You can also utilize apps to get free courses if you have an iPhone. Hence, this article will list some of the best iPhone apps for free courses for every subject. You can install these apps and learn online from the comfort of your home. So, let's explore the list of best iPhone apps for free online courses.
Well, Khan Academy is a non-profit organization with the mission to provide free, world-class education for anyone, anywhere. It's an excellent platform for learners, teachers, and parents.
Almost everything available on the site is free of cost. You can study math, science, economics, grammar, history, government, politics, and more.
You can utilize the Khan Academy iPhone app to sharpen your existing skills, practice exercises, quizzes, and tests even if you are not a learner. Overall, Khan Academy is a great free learning app for iPhone that you should check out.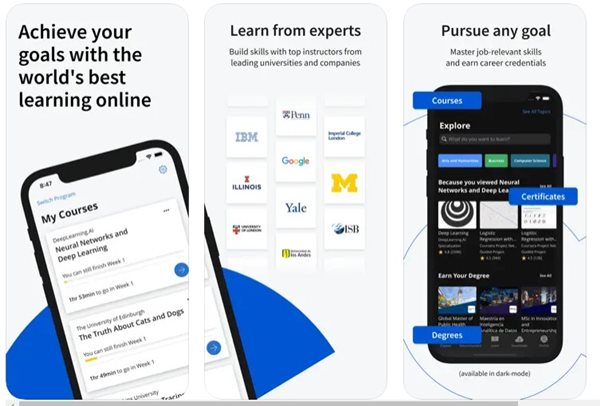 Coursera is another best iPhone apps on the list that provides you with free courses. The site has both free and premium courses. The number of free ones was high and well-made.
As of now, Coursera has over 1,000 courses in almost every subject; most of them are premium, whereas some are available for free.
On Coursera, you can learn computer science, data science, business management, robotics, arts, design, and what's note. Joining Coursera is also free; you only need to pay for the premium courses.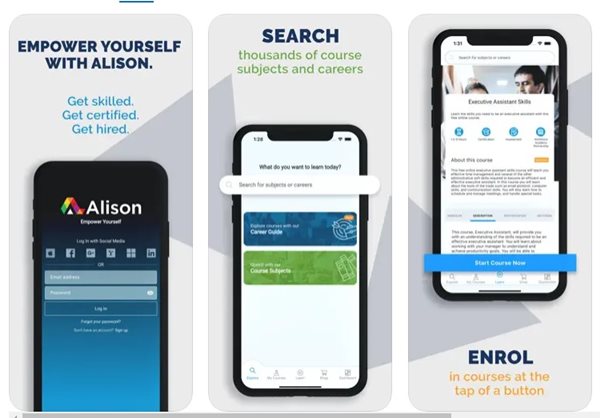 Alison might be the best pick if you are searching for an iPhone app that can provide you access to thousands of free, accredited courses with certifications.
This app can help you develop new skills, improve your CV, and expand your horizons. The app offers many courses for free, and if you complete the free ones, you will be given the course completion certification.
However, if you are someone who prefers visual learning, Alison might turn you off. This is because most courses don't offer video content or have limited videos.
LinkedIn Learning is another great iOS app on the list which provides online courses to learn skills. Even though LinkedIn Learning is not free, you can get 1 month free with a free trial. The first month is free on Linkedin Learn; you can utilize that period to learn skills.
There are many courses available on LinkedIn Learning for Marketing, Excel, WordPress, Social Media Marketing, News Writing, Journalism, Video Editing, Image editing, and more.
While LinkedIn Learning is less popular than other options for online courses, it still has many courses. The courses available on LinkedIn Learning have videos that make the learning process easy.
So, if you want to grow your skills and advance your career, LinkedIn Learning could be a great app to start.
Udemy is possibly the best app for free online courses that you can use on your iPhone. The free online course app for Android provides courses in different subjects and categories.
You will find free courses for improving your physical & mental health, learning meditation, video editing, and occult science. The user interface of the Udemy app is pretty clean and well-organized.
Udemy has both free and premium courses. Although the number of premium courses is high on the platform, the app has a free dedicated section. The site even offers premium courses at a discounted price during the festive seasons.
Also read: How To Download Paid iPhone Apps For Free Without Jailbreak
So, these are some of the best iPhone apps for free online courses. While the apps won't replace the offline tutor, they would help you broaden your learning boundaries. If you want to suggest any more free online course apps for iPhone, let us know in the comments below.