Indian users may be very well aware of JioCinema. JioCinema is a streaming service made by Jio Infocomm Ltd. Jio Infocom is one of India's topmost leading telecom companies.
Jio already has a few subscription-based services for its SIM card users, such as JioTV, JioCinema, JioMusic, etc. These services can be used for free if you have a Jio SIM card.
Since JioCimena is free, many Movie lovers want to enjoy the app on their PC. Not only that, but JioCinema will also stream IPL Premier League 2023.
Is JioCinema Available for PC?
If you are a PC user with a JIO SIM card, you can easily play JioCinema on your PC. However, no official JioCinema app is available for desktop operating systems such as Windows and macOS.
So, if you want to watch JioCinema on PC, you must either use the web version or rely on Android emulators.
But, do note that many sites on the internet claim to provide you JioCinema app for PC; it's best to avoid such sites as there's no official version of the JioCinema app ever made for desktop.
Watch JioCinema on PC
There are multiple ways to watch JioCinema on PC, but using JioCinema's web version is the easiest.
Jiocinema has a fully-functional web version that's highly responsive on desktop screens. Here's how to watch JioCinema on PC.
1. First of all, open your favorite web browser.
2. When the web browser opens, navigate to the https://www.jiocinema.com/

3. Next, click the Login button at the top-right corner and log in with your Jio number.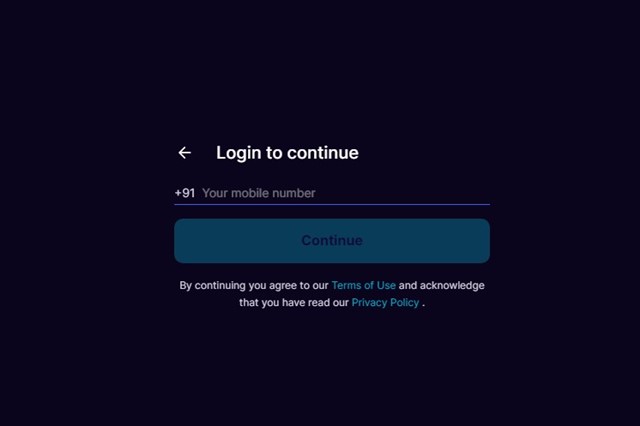 4. Once logged in, you can access the video database of JioCinema for free.
That's it! This is how you can watch JioCinema on PC without downloading anything. If you don't have a JIO Number, you can ask your friend with a Jio connection to share the OTP.
Download JioCinema for PC
Now there are again multiple ways to download Jiocinema app for PC. You can install JioCinema as a progressive web app on your desktop or use emulators like BlueStacks to download JioCinema on PC.
1. Download & Install JioCinema for PC (Progressive Web App)
We will use the Edge browser to convert JioCinema's web version into a Progressive Web App. This way, the JioCinema will be installed as an app on the computer. Here's what you need to do.
1. First, open the Microsoft Edge browser on your computer.
2. Next, visit the JioCinema website and click on the three dots in the top-right corner.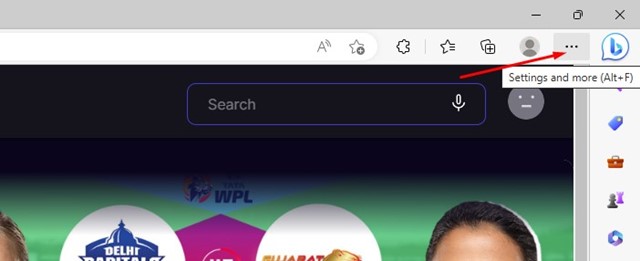 3. From the list of options that appears, select Apps > Install this site as an app.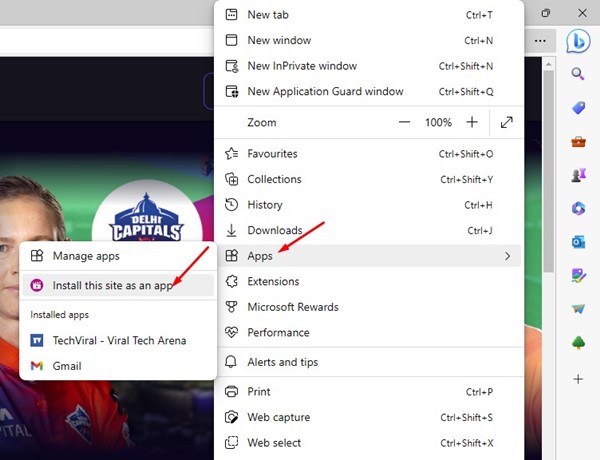 4. On the confirmation prompt, click on the Install button.

5. This will install the JioCinema app on your computer. To access it, click on Windows Search and type Jiocinema. You will find it on the search result; click on it to access it.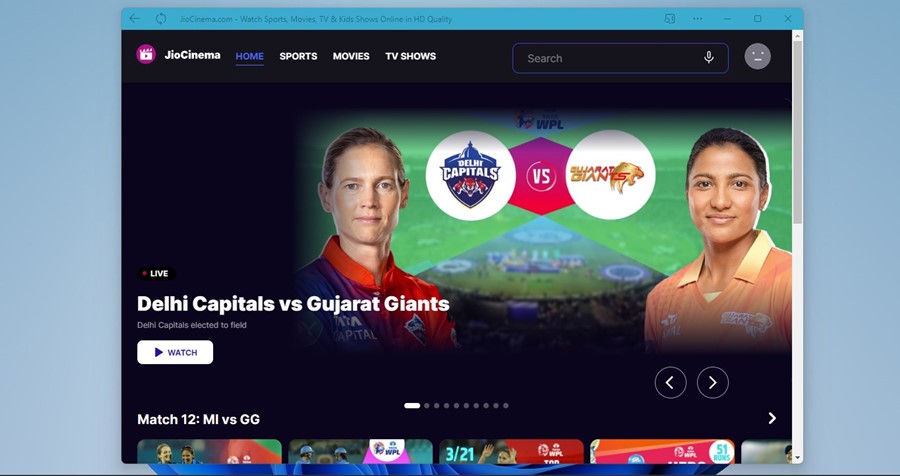 That's it! This is how you can access Jiocinema on your computer.
2. Download JioCinema on PC using BlueStacks
If you want to experience the Jiocinema mobile app on your PC, the next best option is to run it on an Android emulator like BlueStacks.
BlueStacks is right now the leading Android emulator available for PC platforms. It can easily handle Jiocinema or any other graphics-intensive application. Here's what you need to do.
1. First, download & install the BlueStacks emulator for PC.
2. Once installed, open BlueStacks and click on the Google Play Store.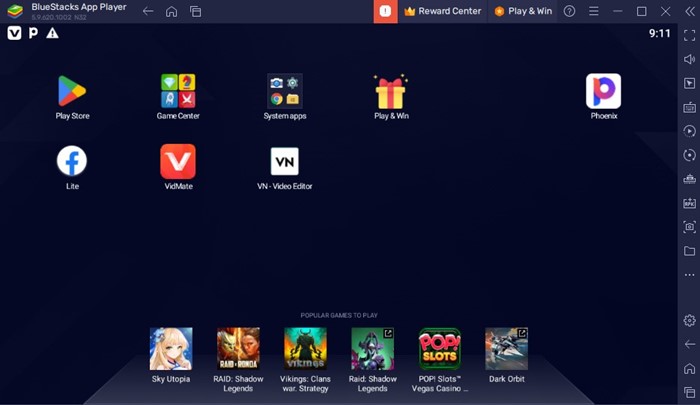 3. You will be asked to sign in with your account. Sign in with your account credentials.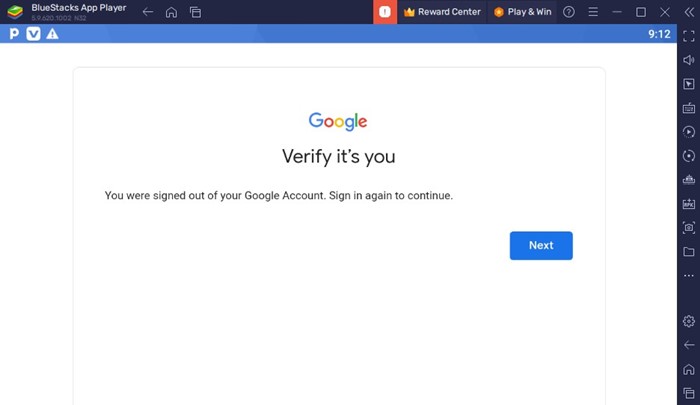 4. Search for JioCinema on the Google Play Store and open the app listing.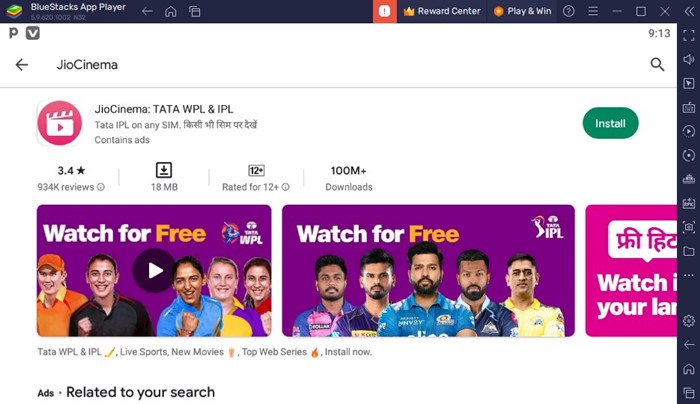 5. Now click the Install button to install the JioCinema app on your computer.
6. This will install the Jiocinema application on your BlueStacks emulator. Now, whenever you want to watch Jiocinema on PC, open the BlueStacks emulator and click on the Jiocinema application.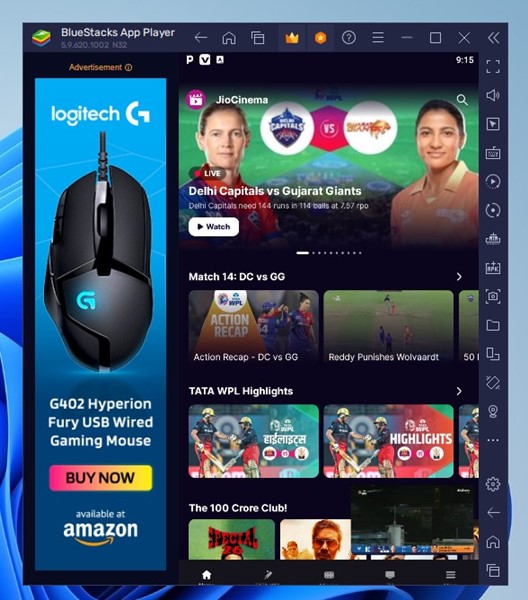 That's how easy it is to download & install JioCinema on PC using the BlueStacks emulator.
3. How to Download Jiocinema for PC without BlueStacks?
BlueStacks may be the most popular Android emulator for PC, but it has a few drawbacks. For example, BlueStacks slows down your PC and can't handle all games and graphics-intensive applications.
If you are uncomfortable with BlueStacks or feel that the emulator is slowing down your PC, the best option is to pick emulators other than BlueStacks.
You can pick the best BlueStacks alternatives or Android emulators for PC to download Jiocinema for PC.
Download Jiocinema app on Windows 11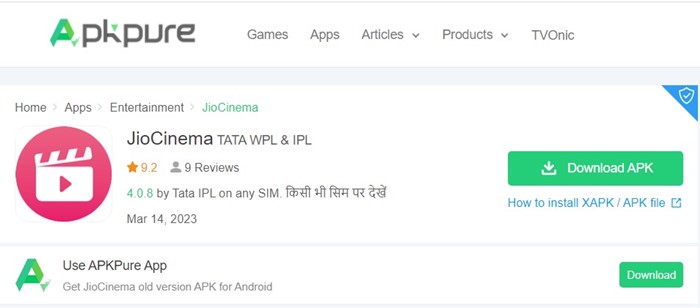 If you don't know, Windows 11 natively supports Android apps. This means you can install Android apps on your Windows 11 natively; without relying on any emulator.
However, that feature comes with a few requirements. First, you can't run Google Play Store directly; second, you should have an Amazon US account to access the Amazon App Store.
You can install Jiocinema on your Windows 11 PC via Amazon App Store. Amazon App Store is not available in every region, including India.
If you somehow manage to install the Amazon App Store or Google Play Store on Windows 11, you can easily download & install the Jiocinema app natively and use it.
How to Fix Jiocinema Buffering?
Jiocinema is offered for free, but it has many drawbacks. Due to server load, the app often buffers while playing the videos.
If you are going to watch sports events like Indian Premiere League 2023 or IPL 2023, Jiocinema buffering could be a major setback.
You can get rid of Jiocinema buffering problem by following our guide – JioCinema Buffering? Best Ways to Fix the Problem.
Download JioCinema For PC – FAQs
---
Does Jio Cinema have Live TV?
Yes, Jio Cinema covers many live sports events. With JioCinema, you can watch Tata IPL 2023, WPL 2323, BWF, NBA, LaLiga, etc.
Not only that, but Jiocinema also shares match highlights and special moments.
---
Is there JioCinema PC Version?
Many users may think of how to download JioCinema PC Version, but unfortunately, the JioCinema PC version is unavailable.
JioCinema is a mobile only application meant for mobile users. However, JioCinema can be accessed from any desktop web browser.
---
Is JioCinema free?
Yes, JioCinema is free but accessible only to Jio users. If you have an active Jio SIM Card, you can access and use it for free.
---
How to watch JioCinema on US?
JioCinema requires an active Jio SIM card. If you live in the US, you can watch JioCinema but will be asked to log in with your number.
So, if you have an Indian friend, you can ask them to share their JioCinema account with you and then watch it.
---
Jio Cinema Download for PC Windows 10
The methods we have shared to download JioCinema for PC work even with Windows 10. BlueStacks is available for Windows 10, and so does the Progressive web apps. So, follow the same steps for the JioCinema download for Windows 10.
---
A JioCinema PC version could be useful, but the company has strictly made it available for mobile users. With these methods, you can easily download JioCinema for Windows and watch Movies, TV Shows, and Live Sports. If you need more help downloading the JioCinema app for PC, let us know in the comments.