Learn how to run iPhone Battery Diagnostics on Mac using the simple guide that will help you get all the factors responsible for battery draining. So follow the tutorial to proceed.
Charging and using your iPhone daily will go off without a raise. If your iPhone shuts down casually, your phone's battery percentage jumps, or even if your phone overheats when not at work, it may be best to run diagnostics at that time. All these traits are hints nearer to battery failure.
Also Read: How To Make iPhone, Automatically Switch To Strongest WiFi
Run iPhone Battery Diagnostics on MAC
Running diagnostics is a simple procedure and is an effective way to see if your battery needs to be replaced. Your Apple Store or any authorized store can run diagnostics for you, but with a store that is far away from running diagnostics will be most applicable and the best of it is to void your warranty.
Also Read: Top 10 Best iPhone Apps To Train your Brain
1. Firstly, you have to download the coconut battery. For this, you must prefer coconut battery version 3.4. Consider that it only works on Mac OS machines; if you are running Windows, you have to get a Mac for this job.
2. Scroll down on the page until you reach the "Download" link and see if updates have been implemented. If the current version doesn't support your needs, the web page will offer some older compatible versions with older operating systems.
3. Your file i.e.".zip" is 8.5MB at the time of writing and would take no time to install. One of the best features of coconutBattery is its universal ease of use and lightness, i.e.; it will not stick to your CPU. This app will also show your battery diagnostics on your Mac too.
Steps for running the app:
1. Double-click on the file that you have downloaded to open it.
2. If the application is not launched at that moment, you need to click on the "Open" present on the warning window.
3. When it is opened, prefer coconutBattery to search for updates automatically. This will help you when new features are added, and you must take them.
Also Read: How To Make iPhone, Automatically Switch To Strongest WiFi
Steps for viewing data
1. With coconutBattery opened, you will be presented with stats about your Mac running the application and your Mac's battery if it has one.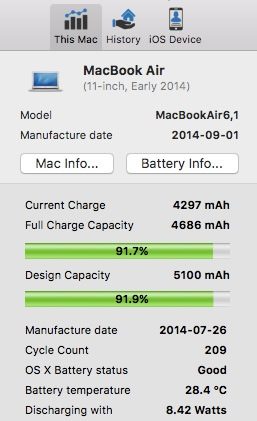 2. To view stats about your iOS device, select "iOS Device" from the menu bar.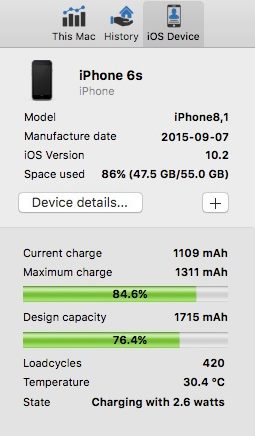 3. All battery details will be displayed at the bottom of the screen. For further details such as age, serial number, and processor, you can select "Device Details."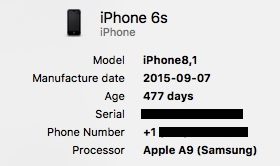 Deciphering Data
Charge Capacity: Power is displayed as milliamp hours or mAh. In cases of 6s, it can store 1715mAh of power, but use has declined to a maximum charge of 1311mAh or 76.4%. This decline happens from a device of its age, like 477 days old, but if your device's maximum is less than the design capacity, you prefer to exchange your battery.
Load cycles and Usage: One load cycle is one full discharge followed b one full charge, i.e., from 0% to 100%. So if you have a 50% charge, use up to 50%, i.e., one load cycle. On average, you can go up to 1000 load cycles before the battery's capacity falls behind the design capacity.
Also Read: How to Make Your Android Look like an iPhone (Without Root)
If the battery looks ship-shaped, it probably is. If it is not, then make a Genius Bar appointment and get it checked out. If possible, visit an Apple-authorized service provider for hardware repair, as the third party will void your warranty. For any battery replacement at an Apple Store, an expert will run a similar application to coconutBattery before going through with repair to verify the issue.