Many Android apps are available on the Google Play Store, allowing users to control other devices remotely. Out of all those apps, TeamViewer for remote control seems to be the best one. The app allows users to remote into another computer, smartphone, or tablet while on the Go. Not just that, TeamViewer for Android provides smooth, fast, and secure remote access.
Despite all its features, TeamViewer for Android has a few bugs which sometimes create problems while connecting to other devices. This is why users search for TeamViewer for Android alternatives. If you are also searching for the best TeamViewer alternatives for Android, we will share some of the best apps to control other devices remotely.
Also Read: 10 Best Tools & Services To Work From Home
List of 10 Best TeamViewer Alternatives For Android
So, let's explore some of the best TeamViewer for Android alternatives. With these apps, you can remotely control other devices.
Inkwire Screen Share + Assist is basically a remote access app, but it's limited only to Android to Android. With Inkwire, you can easily share your phone's screen with another Android user or vice versa.
After starting a remote session with Inkwire Screen Share + Assist, you can also start a voice chat and draw on other users' screens to guide them for something.
RemoDroid is another excellent Android app on the list that can be used to control Android devices with any other Android, PC, or MAC. Apart from regular screen sharing, RemoDroid also allows you to control other devices.
The only downside of RemoDroid is that it's still in beta testing; hence, users may face several problems while connecting to other devices.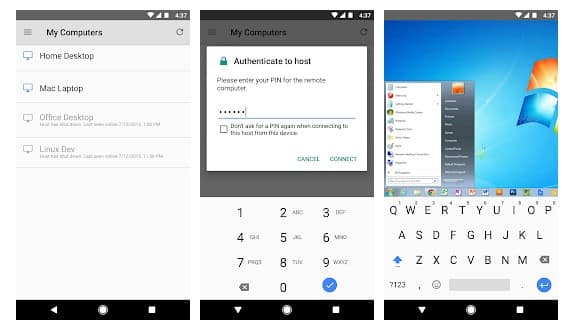 Chrome Remote Control is an app that allows you to access your computers from your Android screen securely. Guess what? Chrome Remote Control needs a Google Account to share screens between devices.
What makes Chrome Remote Control more interesting is that it works on a Chrome browser. So, users don't need to install any other client on the computer to exchange the screen.
If you are searching for the best Android tool to control other devices remotely via BlueTooth, then Unified Remote might be the best pick for you.
It supports screen sharing via BlueTooth and WiFi. The good thing is that it's available on almost all major platforms, including Windows, Mac, Linux, and Android.
PC Remote is for those searching for a free and easy-to-use Android app to control their PC over WiFi or BlueTooth. Like every other remote access app, the app works, but it's specially designed to run PC games on Android.
Other than that, PC Remote allows you to transfer the screen and camera of the PC to the phone, transfer files between devices, and more.
This one is a little bit different compared to all other apps listed in the article. It relies on Java to share screens between devices.
That means both computers/smartphones need to have Java installed to use Kiwimote. Once connected, users can control the screen, move files between devices, etc.
It is one of the advanced screen-sharing tools available for desktop and mobile operating systems. Guess what? With VNC Viewer, you can not only control your PC from your Android, but you can also avail of other features like Bluetooth Keyboard, backup & sync, etc. Users need to have a VNC Viewer desktop client and a mobile app to start a remote session.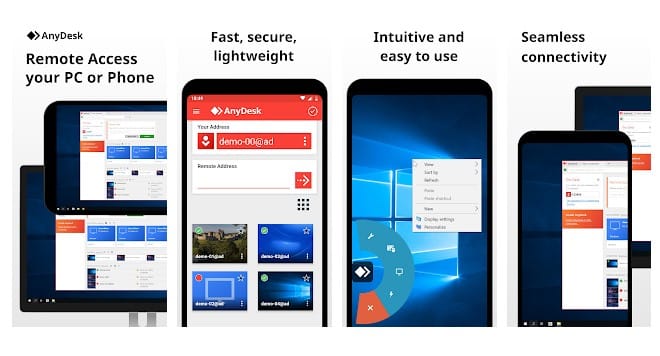 AnyDesk Remote Control is one of the best and most lightweight remote access apps you can use on your Android. The remote access tool allows you to access all your devices running on Windows, macOS, Linux, Android, and iOS.
To use AnyDesk Remote Control, you need to install the app on both devices, launch it and enter the Anydesk ID displayed on the remote sides to commence a remote session. The app is free to use, and it's pretty light on resources.
Splashtop is one of the fastest and easiest remote desktop apps for accessing desktop operating systems like Windows or Mac. Millions of users right now use Splashtop Personal, and it's free to install and use.
With Splashtop Personal, you can easily access your computer on the local network and get full access to programs, documents, browsers, and even games. Overall, Splashtop Personal is an excellent TeamViewer alternative that you can consider.
AirMirror is developed by the same team behind the popular app – AirDroid. AirMirror is a little bit different compared to all others listed below. It doesn't allow you to control a PC; instead, it just lets you control one Android phone with another.
AirMirror also offers advanced features like a Remote Camera that enables you to access another phone's front or rear camera. Other than that, there are voice call options, gesture support, and more.
So, these are the ten best TeamViewer alternatives that you can use right now. If you know of any other such apps, let us know in the comment box below. I hope this article helped you! Please share it with your friends also.