Being the most used mobile operating system, Android offers lots of customization options. Apart from regular customization tweaks, you can install Android launchers to find more customization opportunities.
As of now, there are hundreds of Android launcher apps available on the Google Play Store. Having many such choices can confuse a regular user.
So, to sort out the confusion, we have decided to share a list of the best Android launcher apps that you can use today. These are the top-rated launcher apps of all time.
List of 10 Best Android Launchers
You can use these launcher apps on your Android to maximize the customization options. So, let's check out the best Android launcher apps.
Nova Launcher is probably the best and most powerful launcher app that one can use on Android. It's a complete home screen replacement app for Android that brings many advanced features to your home screen. With Nova Launcher, you get Dark Mode, custom icons, a customizable app drawer, etc.
Also, the launcher app is optimized for speed. So, even if you have a mid-end device, you won't feel slowness while using the Nova Launcher.
The smart, professional launcher is available for free of cost. With tons of customizability options, the users can make their device look insane through this launcher.
Talking about the performance of this launcher, it is nothing laggy, and everything flows buttery smooth! So, it's one of the Best Android launchers you can use.
Apex Launcher is another top-rated launcher app on the list that millions of users use. Guess what? The launcher app brings personalized customization options to your phone.
You can customize almost everything with Apex Launcher. Apart from that, you get an App locker, Android optimizer, Backup options, and more
With Microsoft Launcher (formerly known as Arrow Launcher), you can personalize your Android device to match your style with wallpapers, theme colors, icon packs, etc.
With a Microsoft account or work/school account, you can access your calendar, documents, and recent activities in your personalized feed.
Lawnchair Launcher is one of the best new launcher apps available on the Google Play Store. The launcher app for Android brings Pixel features to your smartphone.
The launcher is a part of an open-source project developed by volunteers. The app brings many Android Oreo shortcuts, Icon pack support, variable icon size, and much more.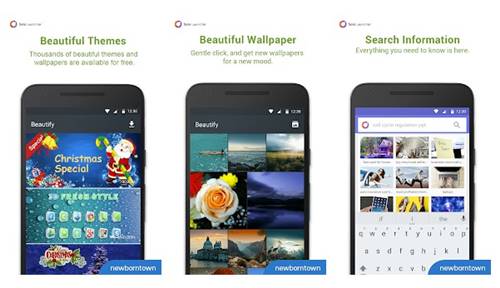 Solo Launcher is one of the top-rated and most downloaded Android launcher apps available on the Google Play Store. In simple words, Solo Launcher enables users to customize the user interface of their Android device.
The launcher brings tons of themes and wallpapers that can change your Android look. The app also brings some Android optimization tools like Junk Cleaning, RAM Boosting, etc.
If you are looking for the best free launcher for android that's fast & smart, you need to pick C Launcher.
C Launcher brings thousands of wallpapers, icon packs, themes, etc. You can use it to transform your Android's interface. Not just that, but C Launcher also brings tons of 3D effects and 3D wallpapers too.
If you want to have a Pixel-type experience on your Android, you need to give Action Launcher a try. Guess what? Action Launcher is one of the best launcher apps available on the Google Play Store.
The launcher app is lightweight but adds lots of customization options. It offers custom gesture controls, fully customizable dock search, widgets, adaptive icons, etc.
Niagara Launcher is one of the unique Android launcher apps you can use right now. It's a pretty lightweight and minimalistic launcher app that makes everything accessible with just one hand.
Yes, it's a launcher app that allows you to control the functionalities of your device with one hand. Apart from that, the app is also very adaptive, which puts the apps you need at your fingertips.
AIO Launcher is one of the best launcher apps that's available on the Google Play Store. It's not your ordinary home screen launcher app; it shows colorful icons and many animation effects.
Basically, AIO Launcher replaces your home screen and allows you to add some useful information on your screen. With AIO Launcher, you can display weather, notifications, dialogs, player, frequent apps, contacts, dialer, timer, mails, tasks, etc., right on the home screen.
So, these are the best launcher apps that you can use on your Android. I hope this article helped you! Please share it with your friends also. If you know of any other such launcher apps, let us know in the comment box below.