Wallpapers add a smart look to your android phone and look fresh and attractive. However, there are restrictions on how many wallpapers you can apply on your device. By default, you can only set a single wallpaper until you use an Automatic wallpaper changer.
Also, there are times when we want to generate custom wallpapers on our device. Actually, apps are available on the Google Play Store that automatically applies a new wallpaper every day.
So, if you are looking for such apps, you are reading the right article. In this article, we will list down some of the best Android apps to generate unlimited wallpapers. So, let's check out the apps.
If you love Google's material design, you will love Material Wallpapers. The app generates random material design wallpapers based on words you enter. You can add your name and can produce your name-based wallpaper.
Apart from that, the app also lets you configure pattern style, color, and schedule wallpaper to change every minute.
Tapet is the first app of its kind. It's basically an app that generated wallpaper for your Android device. It sets the best wallpaper based on your screen resolution.
What's more interesting is that it automatically changes the wallpapers at regular intervals. No images were downloaded from the internet; everything is generated on your device.
Love to set images that have quotes in them? If yes, then Quote it might be the perfect choice for you.
You can scroll through thousands of quotes and sayings, each created and generate with a unique appearance.
This is one of the awesome apps which you can have on your Android smartphone. This app makes it easier to create live wallpaper.
It comes with access to thousands of shapes and patterns and the ability to share your themes with other users. Create beautiful abstract wallpapers like never before!
Walli is a high-quality, selective collection of unique and cool wallpapers exclusively made by artists for your device. The best part about this app is this it offers multiple sizes of wallpapers.
If you are a Photographer, you can also share your photos in Walli. The app rewards artists for their work.
Well, Muzei Live wallpaper brings sets of famous paintings as your wallpaper. Moreover, it can automatically update wallpaper for you.
Another best thing about Muzei Live wallpaper is that it automatically applies blur and diminishes the effect to make it more awesome.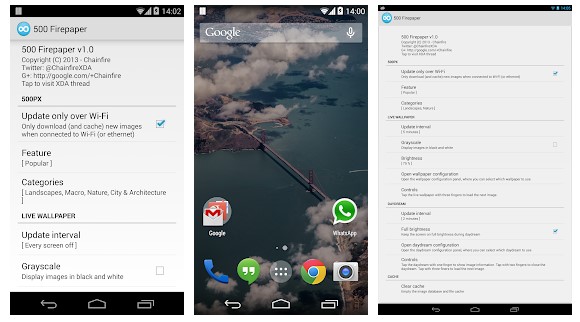 500 Firepaper is another best wallpaper changer available for Android devices. The app serves as a community for photographers where hundreds of wallpaper are shared every day.
The best thing about 500 Firepaper is that it can automatically change wallpapers as per your set schedule.
Unlike other wallpaper apps that get the images from various other sources, the Backdrops depend on abstract artworks, cityscapes, and material design-inspired wallpapers.
You will find lots of wallpapers on Backdrops, and you can even share your own wallpapers with Backdrop's community.
Like the app's name says, Minimalist Wallpaper brings a set of a creative collection of minimalist backgrounds.
These wallpapers are meant to consume less of your Android's battery resources. The wallpapers on the app are exciting and unique, and the app is updated regularly.
Wonderwall is one of the best Android apps which you can use right now to access stunning wallpapers. The app is known for its high-quality landscape backgrounds, and the database is updated daily.
Apart from that, the interface of Wonderwall is also pretty clean and well-designed. Just like all other wallpaper apps, Wonderwall also allows users to change wallpapers daily.
ZEDGE is not actually a wallpaper app, but it's a hub from where you can download the latest ringtones, notification sounds, alarm tones, etc. You can access tons of HD wallpapers through ZEDGE.
Not just that, but you can also download lots of free Live wallpapers for your Android. So, ZEDGE is another best app to get unlimited wallpapers on your Android smartphone.
Resplash is another best Android app that you can use to generate unlimited wallpapers every day. The best thing about Resplash is that it provides over 1 Million high-resolution images, which you can set as wallpaper. Apart from that, the Resplash app also proves users Dark and Black AMOLED theme.
Wallpapers by Android station is another great app to generate unlimited wallpapers. This is a free app that provides thousands of Wallpaper and Background to make your screen unique and elegant. Another great thing about Wallpapers is that it's frequently updated to add new wallpapers.
As the name of the app says, 3D Wallpapers Backgrounds HD is an app that provides users thousands of 3D HD Wallpapers.
You can either use those wallpapers to customize the home or lock screen. The best thing about 3D Wallpapers Backgrounds HD is that the app receives daily updates of free and awesome wallpapers.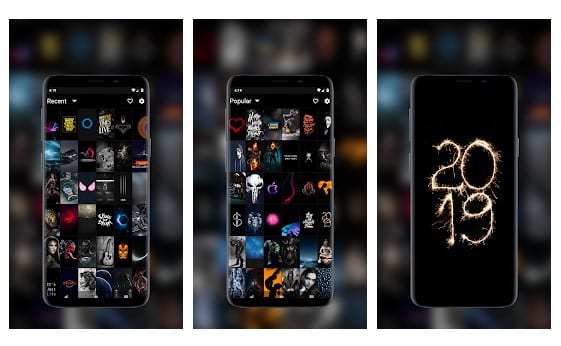 If you have an AMOLED display, then you need to install Black Wallpapers. Guess what? The wallpapers are hand-picked by professional designers to make every background looks exciting and stunning.
So, these are the best Android apps to generate unlimited wallpapers. I hope this article helped you! Please share it with your friends also. If you know of any other such apps, let us know in the comment box below.