[dropcap]G[/dropcap]ive your android ravishing look with all new amazing wallpapers without searching them from different websites. Instead of doing that, you can use the best apps android apps that will help you to generate unlimited wallpapers for your device.
Wallpapers add a smart look to your android phone and look fresh and attractive. There are restrictions on how many wallpapers you access using this app, as you have to use a single wallpaper only once. You are free to download any Android app that will produce infinite wallpapers for the specific pattern. Here, we provide you the latest first apps that will come up with many more wallpapers. These apps will help you to get the cool wallpaper on your android. So have a look on complete guide discussed below to proceed.
Also Read: Best Android Apps To Identifying Music Playing Around You
Top 20 Best Android Apps to Generate Unlimited Wallpapers
Below are the some of the cool apps that you will surely love to have in your Android device as they will generate the cool wallpapers for your device. So have a look at all these apps below to proceed.
Also Read: Top 10 Best Android Apps For College Students
If you love Google's material design, then automatically you will love Material Wallpapers. It is a material design-based app that will produce random material design wallpapers based on words you give up. You can add your name and can produce your name based wallpaper. This will provide some reference to the name you give up by denoting first letter as big. It is not compulsory to only generate name-based wallpaper, in fact, the app generates wallpaper based on the words provided by you. You feel more comfortable with your name so the app asks for your name. You can configure pattern style, color, and schedule wallpaper to change in every minute.
Tapet does a marvelous post when we produce random patterns. It provides you a long big list of patterns that give a new look every time. It also provides the feature to customize each wallpaper like keep the color but change the pattern too. You can also select similar or dissimilar pattern according to your choice to let the app know what you like and offer pattern suggestions according to it. With the free version, you can't control over what patterns you can produce. You can pick for the Pro version to access all the patterns and you can easily use them as you like to prefer. This app can automatically change your phone's wallpaper every minute or second.
If you like Polygon art, then this is the best app. This app will produce much more polygon art with different colors and patterns every time. This app gives you a new feature that you can manually create your own polygon art. You can even easily customize polygon art shape, style, color, and pattern and create your own polygon art based wallpaper. You can even create random wallpapers with a single tap and apply them. This app will also let you turn your saved photos or newly clicked ones into polygon art and can also edit it.
Wallpaper Generator is an all in one app that will let you select patterns from different classification to generate many more wallpapers. You can create from material design, textures, transparent shapes and etc. This also lets you edit the generated pattern. You can drag and scale contents of most of the patterns and also go in edit mode for changing wallpaper's look and to add different effects to it.
Love to set images which have quotes in it? Quote it might be the perfect choice for you. You can scroll through thousands of quotes and sayings, each created and generated with a unique appearance.
Also Read: Best Android Apps To Transfer Files Over Wifi With High Speed
This is one of the awesome apps which you can have on your Android smartphone. This app makes it easier to create live wallpaper. It comes with access to thousands of shapes and patterns and the ability to share your themes with other users. Create beautiful abstract wallpapers like never before!
Mixt allows you to generate a gradient by choosing two colors of your choice and set it as wallpaper. You can use the gradients and colors to create unlimited wallpaper.
With Blur, you can create customized wallpapers easily. Just choose a picture from your phone's gallery and turn it into awesome colorful wallpaper for your Home screen.
This app will generate gorgeous random radial wallpapers at the touch of a button, every randomly generated wallpaper will be unique, one of a kind, no two will ever be the same.
Walli is a high quality, selective collection of unique and cool wallpapers exclusively made by artists, for your device. The best part about this app is, this offers multiple sizes of wallpapers.
Also Read: Top 15+ Best Download Managers For Your Android Device
Well, Muzei Live wallpaper brings sets of famous painting as your wallpaper. It can automatically update wallpaper for you. Another best thing about Muzei Live wallpaper is that it automatically applies blur and diminishes the effect to make it more awesome.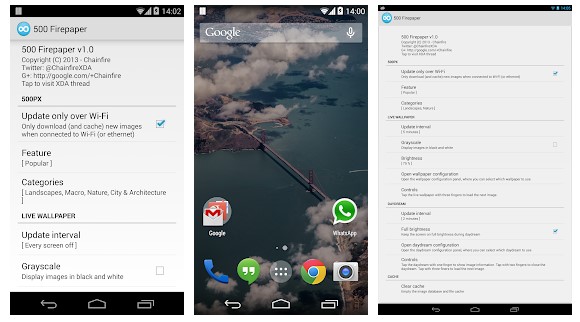 500 Firepaper is another best wallpaper changer available for Android devices. 500 Firepaper is actually one of the leading communities for photographers where hundreds of wallpaper shared every day. The best thing about 500 Firepaper is that it can automatically change wallpapers as per your set schedule.
Well, unlike other wallpaper apps that get the images from various other sources, the Backdrops depends on abstract artworks, cityscapes, and material design-inspired wallpapers. You will find lots of wallpapers on Backdrops and you can even share your own wallpapers with Backdrop's community.
Like the name of the app says, Minimalist Wallpaper brings a set of creative collection of minimalist background. These wallpapers are meant to consume less of your Android's battery resources. The wallpapers on the app are very interesting and unique and the app is updated on a regular basis.
Wonderwall is one of the best Android apps which you can use right now to access stunning wallpapers. The app is known for its high-quality landscape backgrounds and the database is updated daily. Apart from that, the interface of Wonderwall is also pretty clean and well-designed. Just like all other wallpaper apps, Wonderwall also allows users to automatically change wallpapers daily.
ZEDGE is not actually a wallpaper app, but its a hub from where you can download latest ringtones, notification sounds, alarm tones, etc. Yes, you can also access tons of HD wallpapers through ZEDGE. Not just that, but you can also download lots of free Live wallpapers for your Android. So, ZEDGE is another best app to get unlimited wallpapers on your Android smartphone.
Resplash is another best Android app which you can use to generate unlimited wallpapers every day. The best thing about Resplash is that it provides over 1 Million high-resolution images which you can set as wallpaper. Apart from that, the Resplash app also proves users Dark and Black AMOLED theme. So, Resplash is another best wallpaper app for Android that you can use right now.
Wallpapers by Android station is another great app to generate unlimited wallpapers. This is a free app which provides thousand thousands of Wallpapers and Backgrounds to make your screen unique and elegant. Another great thing about Wallpapers is that it's frequently updated to add new wallpapers.
As the name of the app says, 3D Wallpapers Backgrounds HD is an app which provides users thousands of 3D HD Wallpapers. You can either use those wallpapers to customize the home or lock screen. The best thing about 3D Wallpapers Backgrounds HD is that the app receives daily updates of free and awesome wallpapers.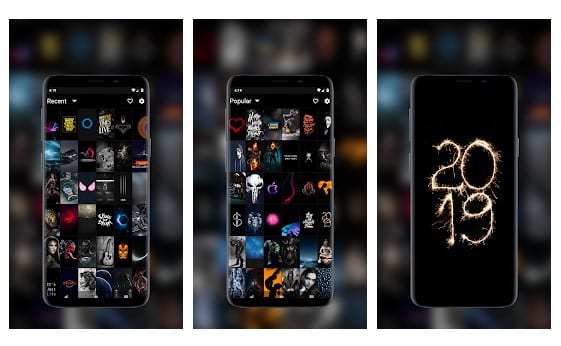 If you have an AMOLED display, then you need to install Black Wallpapers. Guess what? the wallpapers are hand-picked by professional designers to make each and every background looks exciting and stunning. So, Black Wallpapers is another great Android app which you can use to generate unlimited wallpapers.
So above is all about to Generate Unlimited Wallpapers with These 10 Android Apps. Use these apps and you can easily get all the cool wallpapers right on your android mobile. So must try this out today, keep on sharing with others too. Leave a comment below if you have any related queries with this.