Almost at the end of every year, Microsoft hosts a Surface launch event that usually introduces new Surface devices and makes some significant announcements.
The trend has followed this year, and the company has introduced many new Surface laptops. It introduced Microsoft Surface Pro 9, Surface Laptop 5, and Surface Studio 2 Plus.
And as expected, the Surface products come in great new designs and color options. Along with it, the new Surface laptop from Microsoft also offers some cool new stock wallpapers.
Download Microsoft Surface Wallpapers
When it comes to wallpapers, Microsoft usually introduces new stock wallpapers with every new Surface laptop launch. This time, the Surface Laptop 5 and Surface Pro 9 have some cool wallpapers you can download and use.
Although the wallpapers were designed for Microsoft Surface laptops, you can use them on any laptop or desktop. There is a total of 6 wallpapers that you can download and use. All of the Microsoft Surface 2022 wallpapers look cool and unique.
Note: Below is the preview of Surface Laptop 5 and Surface Pro 9 Wallpapers. The previews were just for the representations and were not of high quality. So, make sure to download the wallpapers from the shared links.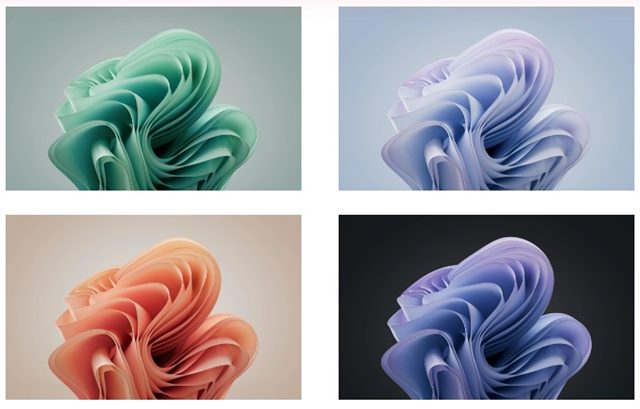 Just open the shared download link and download the wallpapers on your computer. Once downloaded, you can apply it on your desktop and lock screen.
Microsoft Surface Laptop 5 Specification
Microsoft Surface Laptop 5 has pretty capable hardware as it's powered by an Intel Evo 12th Generation chip. With the 12th generation, you have two chipset choices – Core i5 and i7.
Surface Laptop 5 could be the best pick for a fast, lightweight laptop with a touchscreen.
Microsoft Surface Pro 9 Specification
If we talk about the key specs of Surface Pro 9, you get an Intel 12-gen chipset. You also get a variant of Surface Pro 9 that's powered by an ARM chipset. Qualcomm and Microsoft's SQ3 chipset powers this ARM model.
The chipset has some interesting features, such as support for 5G bands and a Neural Processing unit that enhances the processing power.
For more details about the two new laptops from Microsoft, check out our guide – Microsoft Surface Event Launches Surface Pro 9 & Studio 2 Plus.
Also read: Download iPhone 14 & 14 Pro Wallpapers
So, these are the cool stock wallpapers of the Microsoft Surface Laptop 5 and Surface Pro 9. All of the Wallpaper of Microsoft Surface 2022 were uploaded in high resolution. You can download and use it on any computer/laptop. If you need more help downloading Microsoft Surface 2022 wallpapers, let us know in the comments below.