Android is indeed a great mobile operating system used by millions of users. For those who don't know, Android is an open-source operating system based on Linux. Due to its nature, it provides users with endless customization options.
Not only customizations, but the app availability is also relatively high on Android compared to any other mobile OS. In this post, we will talk mainly about customization. For Android customizations, numerous launcher apps are available on the Google Play Store like Nova Launcher, GO Launcher, Apex Launcher, etc.
The Nova Launcher stands out from the crowd due to its unique features. Millions of users now use Nova Launcher, the best in the launcher section. But, since Nova Launcher is a very old launcher, it now looks & feels boring.
Also Read: How To Hide Apps On Android Using Nova Launcher
List of 10 Best Nova Launcher Alternatives
So, if you're tired of using Nova Launcher, it's time to switch to its alternatives. Many Launcher apps are available on the Google Play Store that you can use instead of Nova Launcher. This article will share a list of the best Android Nova Launcher alternatives.
Pie Launcher is a new launcher app on the list that you can try on your Android. While the app offers fewer customization options than Nova Launcher, it still brings many exciting features. The launcher app supports themes (1000+ themes), icon packs, swipe-up actions, and more.
Besides regular customization options, Pie Launcher also brings many Android 11 features, notification dots, gestures, app hider, and more. Overall, Pie Launcher is a great launcher app that you can try on your Android.
Total Launcher is one of the best & lightweight launcher apps to have on Android. While the app is not as popular as Nova Launcher, it still offers you a fair amount of customization options. The Android launcher app brings many cool themes, endless customization options, rich-featured widgets, and more.
You can set different orientations and designs on your Android via Total Launcher. Overall, Total Launcher is a Nova Launcher alternative that's worth a try & shouldn't be missed.
CMM Launcher is a fast, smart, and battery-friendly launcher app available on the Google Play Store.
The Android launcher app offers many themes, 3D effects, Live wallpapers, and many other things for customization. Also, it allows you to hide apps & protect your privacy with a stretching gesture feature.
If you are searching for a highly customizable launcher app for Android, XOS Launcher could be the one for you. Guess what? The launcher app for Android is highly customizable, smart, and beautiful.
It has many intelligent features like the Smart Scene, which discovers hit songs, and discovery, which features new wallpapers daily.
If you are searching for an excellent-looking launcher app for your Android device, you need to try Apex Launcher. Apex Launcher offers users thousands of themes and icon packs that you can use for free.
Apart from that, Apex Launcher is optimized for both smartphones and tablets. So, battery consumption won't be an issue with Apex Launcher.
We are pretty much sure that not everyone can afford a Pixel device. If you are also just like me, who can't have a Pixel device, you need to try the Pixel launcher.
Pixel launcher for Android brings the look and feel of Pixel phones. It doesn't have any themes or icon packs but focuses on stability, speed, and security.
ADW Launcher 2 is the upgraded version of the ADW Launcher app, a 3D launcher. When it comes to customization, no other launcher app can beat ADW Launcher 2.
It provides users endless customization options like Dynamic UI coloring, multiple home screens, app widgets, wallpapers, fast scrolling options, etc.
Microsoft Launcher, previously known as Arrow launcher, is another best Nova Launcher alternative on the list you can consider.
The great thing about Microsoft Launcher is that it's incredibly lightweight and fast. Apart from that, Microsoft Launcher features new wallpaper every day, which it grabs from Bing.
The revamped version of the previous Action launcher got more colors and customization options. The launcher app for Android brings all Pixel launcher features like swipe gestures, customizable dock search, adaptive icons, Google discover integration, etc.
Apart from that, it also has a Quicktheme section that lets you customize your home screen.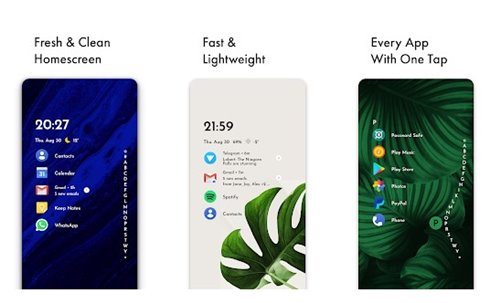 If you are looking for a lightweight and clean launcher app for Android, then look no other than Niagara Launcher. The minimalist Niagara Launcher makes everything accessible with one hand and lets you focus on what matters the most.
It has a streamlined, minimalist design that declutters your home screen and reduces distractions. The launcher is ad-free and is super easy to use.
Which is the best Nova Launcher alternative?
Nova launcher is the best launcher app out there. However, it's not the only one. Other launcher apps listed in the article have similar features.
Do these launchers have gesture support?
Not all of them have gesture support, but some do have. Launchers like Pixel Launcher, Action Launcher, etc., have gesture support.
Do these launchers have dark mode?
Not all of them have a dark mode, but some have. You can install Pocolauncher to enjoy the dark mode.
So, these are the best Nova Launcher alternatives for Android. You can use these Nova Launcher alternatives to customize the look of your Android smartphone. If you know any other launcher apps, let us know in the comment box below.