It doesn't matter whether you want to build strength, lose weight, or gain muscle; the workout app for iPhone is all you need. Several workout apps are available on the Apple App Store, most of which are free to download & use.
Depending on your health goals, you can install specific workout apps on your iPhone and use them in need. With a proper workout app for iPhone, you can build strength, lose weight, or gain muscles.
Even if you don't want to lose weight or gain muscle mass, you can use these workout apps to maintain your fitness. Since hundreds of workout apps are available on the Fitness section of iPhone, we have carefully picked the top-rated one that offers a free plan.
10 Best Workout Apps for iPhone
So, in this article, we have listed some of the best workout apps for iPhone. Let's check out the apps.
Nike Training Club is an iPhone health & fitness app built for all. It doesn't matter if you are looking for home workouts, yoga, HIT workouts, meditations, etc., Nike Training Club has got you covered.
The workout app for iPhone provides you workouts for all, including the abs workout, cardio, yoga & stretches.
Besides these things, Nike Training Club provides you with a wellness diary, health & fitness guidance, and other useful things.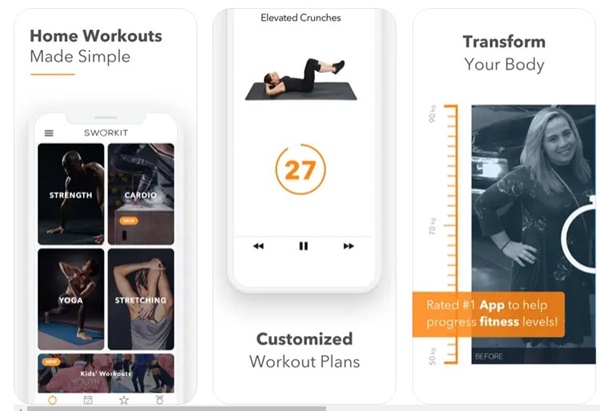 Sworkit is the ultimate health & fitness app for iPhone for those wanting to supplement their fitness habits.
The app provides you with workout plans for the time you have. It doesn't matter whether you have just about 5 or 45 minutes; Sworkit's unique algorithm gives you a workout plan.
Also, there's an option to choose workouts without equipment. So, if you are a fitness freak & looking for the perfect workout app, Sworkit could be the one for you.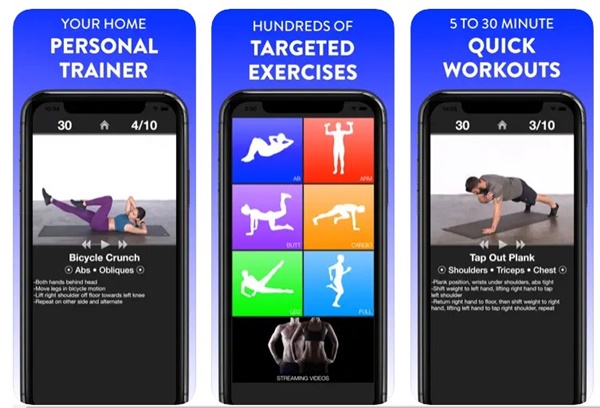 Daily Workouts is one of the best 5 to 30-minute daily workout apps for iPhone. It has both workouts for men & women, which are explained step-by-step.
The app provides you with ten different 5 to 10-minute targeted workouts, 10 to 30-minute randomized full-body workouts, 100+ exercises, etc.
For every workout & exercise, you can see a video showing you the detailed steps. The app also has a premium version that provides 390+ exercises & custom workouts and removes ads.
Peloton is an iPhone app that makes fitness classes & workout tracking fun and easy. The workouts that the app provides require no equipment.
The app offers hundreds of workouts to meet your fitness goals, including strength training, indoor & outdoor running, yoga, HIIT, stretching, etc.
Also, there are meditations to improve your mental health. However, to get the most out of Peloton, you need access to an exercise bike or treadmill.
Sweat is a great fitness app for women. The app basically serves as a community where you can meet other women wanting to shape up.
The app offers different levels of workouts: beginner, intermediate & advanced. Depending on your fitness level, you can choose the workout plan.
The app is great for HIIT, Circuit training, bodyweight exercises, power building, strength training, yoga, pilates, recovery, cardio, etc.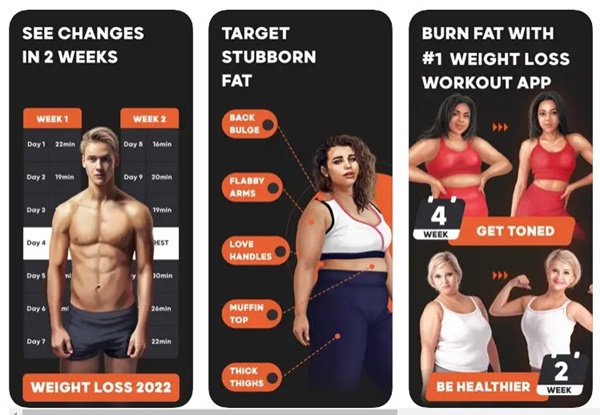 BURN is basically a weight loss focused workout app that can help you get in shape. It doesn't matter how overweight you are; BURN has workout & meal plans ready for all your fitness goals.
The key features of the BURN app are personalized workout plans, meal plans, a wide range of exercises, tracking the progress of exercise, etc.
Also, BURN provides expert guidance from certified trainers, but that's included in the paid variant of the app. The expert guidance ensures that you're performing exercises safely & effectively.
CRUNCH is an app to reduce belly fat. It's something that will help you get your six-pack abs. While the app claims to show you the changes in about 4 weeks, it depends on your dedication.
If we talk about the features, CRUNCH offers you quick & effective workouts that you can do anytime & anywhere. Whether at home, gym, or even the office, CRUNCH has effective workouts that you can do anytime.
Along with the short & effective abs and core focused workouts, the app offers multi-week workout plans guided by professional trainers. There's also an option to integrate Apple Health to track your activity, workouts, calories burned & weight.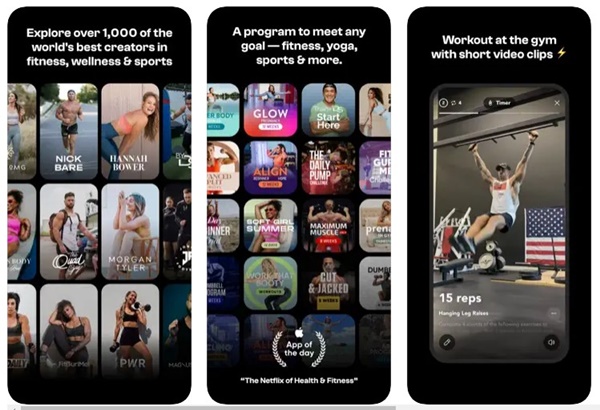 Playbook differs slightly from all other workout apps in the article. This app gives you access to the world's leading fitness influencers, trainers, wellness gurus, athletes, and more.
You can subscribe to your favorite fitness influencers and access their content. The app right now has over 56,000 workouts and more than 500 instructors.
It's one of the unique apps because it lets you choose the fitness trainers of your choice. The app's premium version unlocks the option to join a community of motivated individuals to help you reach your goals.
The premium version also includes unlimited offline downloads, live streaming of paid classes, etc.
Gym Workout Planner & Tracker is a top rated gym workout app for iPhone available on the Apple App Store. The app provides many useful features to help you build muscle & lose weight.
The app gives you guided gym workout plans, a smart trainer that acts as a gym coach, automatic weight optimization, workout tracking features, etc.
Also, you can create multiple workout plans for your fitness goals, modify the existing workouts, etc. The app even offers easy-to-understand detailed instructions for all workouts.
As you might have guessed from the name, 7 Minute Workout + Exercises is an iPhone app that provides a complete workout in less than ten minutes.
The workouts the app brings are professionally designed and short & effective. Every workout can be done anytime, anywhere, without any equipment.
Also, the app gives you a personal trainer with voice & video instructions, the option to create custom workouts, etc.
You can even integrate Apple Health to track your activity, weight, workouts, and burned calories. Overall, 7 Minute Workout + Exercises is a great health & workout app for iPhone you should use.
So, these are some of the best iPhone workout apps that you can use to make exercise & workout a daily habit. Let us know which is your favorite iPhone workout app on the list.