Lets have a look on 15 Awesome Apps by Google You Probably never Heard Of and using these apps on your android mobile you will definately get the great experience, So have a look on all these apps below.
[dropcap]G[/dropcap]oogle is one of the leading manufacturers of software, apps as we all know and it makes great software that couldn't be misunderstood ( Android is also made and developed by Google ). You could have found some great apps for your smartphones running on Android or iOS that all are made by Google but still there are some more great apps by Google that you probably might have never heard of. These great apps made for Android and iOS by the Google are just tremendous and you will also love to use them on your devices. Here in this article, we have listed those best awesome apps by the Google that you might have never used before or even heard of. Just read up the whole article and know more about them.
Also Read: How to Use Google Maps Offline In Android
20 Awesome Apps By Google You Probably Never Heard Of
Below we had listed some of the best apps that you will surely love to try, but you must not have heard about them till now. So have a look on these apps below.
Also Read: How to Compress Images Online without Losing Quality
#1 Google Duo
[appbox googleplay com.google.android.apps.tachyon]
This could be either stated as the best Video calling app or the simplest one because it is not loaded with so many functions but only the support for just video calling. Anyone who needs to do a video calling will have to click up the Big video call button, choose up the contacts and then go for the calling. This can be the best app for video calling because while doing video calls no one may want any bunch of functions except just uninterrupted calling, the nontech-savvy people can find it much more usable than any other app of the same kind. There is one amazing preview feature of this app with which users can actually see up the caller on their screen even before picking up the call hence can easily identify the caller. This app can be used to call on both Android as well as iOS and even the cross-platform functinality is possible.
#2 Snapseed
[appbox googleplay com.niksoftware.snapseed]
This one is the most powerful photo editing app that you can ever find for your devices, this app resembles the potential qualities of the desktop versions of image editors hence you could imagine it's real power. Not only that but this app has a great UI too which makes it easier to work with different tools and the images. You get in some great image editing capabilities with this app like cropping, rotating, image tuning, add text, brushes, healing etc and apart from that all you get a huge number of filters that you can apply to your images.
#3 Androidify
[appbox googleplay com.google.android.apps.androidify]
This is something that you will really love! This app is really awesome, users just can play up with many different aspects of an Android green bot like body and then convert into an image which is the exception and you made that for some purpose. Make up multiple changes from the list of various styles for everything like changing up the clothes color, adding accessories etc and much more to create a great image of a character that you can actually share with the social media users.
Also Read: How To Make Google Chrome Faster For Web Browsing
#4 Google Gesture Search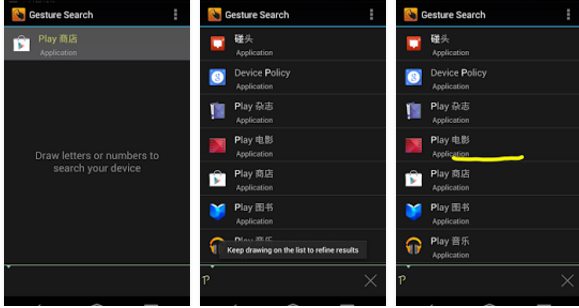 Till now you might have used up with some few gestures on your Android devices and you get limited to apps or some settings for which you can actually set up the gestures. But now after installing up the Google Gesture Search app on your device, you can easily search for about everything inside your device like apps, files, settings etc just through gestures that you can set up before in the app settings.
Also Read: How to Extract and Copy Text From Any Image In PC
#5 Google Fit
[appbox googleplay com.google.android.apps.fitness]
This could not be the best fitness-related app but still is the simplest and the coolest ever app that you can find for your device. Through the easy to surf interface of this app one can keep up the look of all possible fitness related information and the app also provides the users with the guidelines and tips so that the users can grow up much faster on their tracks or the practice routines.
#6 Google Handwriting Input
[appbox googleplay com.google.android.apps.handwriting.ime]
This is a great app through which you can easily input up to the text in your own way by drawing up the alphabets and the app will automatically detect and convert that drawing into the corresponding text.You may not find this way to type as the best and the fastest way but still, you can use this app for greater fun and typing in some different way. You will love the feature in which you draw up the emojis and the similar emoji shall be input in the text field.
#7 Sound Search for Google Play
[appbox googleplay com.google.android.ears]
The Google Play Sound Search widget can help you recognize music and songs playing around you. It can identify songs, directly from your home screen. This app is similar to Shazam or Soundhood.
#8 Google Primer
[appbox googleplay com.google.android.apps.primer]
Primer is a fast, easy way to learn new marketing skills. It gives you bite-sized lessons to do whenever you have 5 minutes free. Interactive activities will help you learn concepts quickly. And you can put your new knowledge to use right away with personalized, in-app next steps that are automatically saved for you.
Also Read: How to Extract and Copy Text From Any Image In Android
#9 Google Authenticator
[appbox googleplay com.google.android.apps.authenticator2]
Google Authenticator generates 2-Step Verification codes on your phone. 2-Step Verification provides stronger security for your Google Account by requiring a second step of verification when you sign in. In addition to your password, you'll also need a code generated by the Google Authenticator app on your phone.
#10 Google Opinion Rewards
[appbox googleplay com.google.android.apps.paidtasks]
Answer quick surveys and earn Google Play credit with Google Opinion Rewards, an app created by the Google Surveys team. You just need to answer few questions about yourself and it will give your credit. Users can receive up to $1 per questions.
Also Read: 10 Apps That Will Transform your Android Into A Professional Camera
#11 Files Go
[appbox googleplay com.google.android.apps.nbu.files]
Files Go is a new storage manager that helps you free up space on your phone, find files faster, and share them easily offline with others. In just a few taps, you can free up space more quickly and easily than ever.
#12 Datally
[appbox googleplay com.google.android.apps.freighter]
Saving mobile data is easy with Datally, a smart new app by Google. It's a mobile data manager that will help you monitor, save, and gain control of your data. Through tracking and controlling app data usage, you save more data and get the most out of your phone.
#13 PhotoScan
[appbox googleplay com.google.android.apps.photos.scanner]
PhotoScan is a new scanner app from Google Photos that lets you scan and save your favorite printed photos using your phone's camera. Don't just take a picture of a picture. Create enhanced digital scans, wherever your photos are.
#14 Google Keep
[appbox googleplay com.google.android.keep]
Capture inspiration when it strikes! Keep is simply the quickest way to offload ideas, thoughts, and to-dos without losing focus. With Google Keep, you can create notes and lists, set time and place reminders, and check off your completed tasks.
#15 Wallpapers
[appbox googleplay com.google.android.apps.wallpaper]
Wallpapers from Google are one of the best apps you can ever have if you want to change wallpaper on regular basis. Make the most of your display with beautiful wallpapers and advanced features. Choose one of your own photos, an image from the Google Earth collection, a scenic landscape from Google+, and more.
Also Read: Google Just Launched Three New Apps For Android & iOS
#16 Google Classroom
[appbox googleplay com.google.android.apps.classroom]
Classroom is a free service for schools, non-profits, and anyone with a personal Google account. Classroom makes it easy for learners and instructors to connect—inside and outside of schools. Classroom saves time and paper, and makes it easy to create classes, distribute assignments, communicate, and stay organized.
#17 Science Journal
[appbox googleplay com.google.android.apps.forscience.whistlepunk]
Science Journal is the free digital science notebook brought to you by Google. You can use the sensors in your phone to measure and graph phenomena such as light, sound, and motion, or connect to external sensors via Bluetooth.
#18 Motion Stills
[appbox googleplay com.google.android.apps.motionstills]
Motion Stills is an app from Google Research that lets you capture short videos and transform them into beautiful cinemagraphs or sweeping cinematic pans using our advanced stabilization and rendering technology.
#19 Google Tasks
[appbox googleplay com.google.android.apps.tasks]
With the help of Google Task, you can manage, capture, and edit your tasks from anywhere, at any time, with to-dos that sync across all your devices. Integrations with Gmail and Google Calendar help you get tasks done faster.
#20 Expeditions
[appbox googleplay com.google.vr.expeditions]
Google Expeditions is a virtual reality teaching tool that lets you lead or join immersive virtual trips all over the world — get up close with historical landmarks, dive underwater with sharks, even visit outer space!
And that was all about the awesome apps from the Google you probably never heard of, after reading up about them you may have liked all these apps because of their feature specs etc. To experience all these apps in real and get their real time visuality just download and install them on your device's. I promise that you will love all these apps for sure and you shall be making them you're whole time regular apps!