Searching for best android apps in the crowded Google play store is really a difficult task. So, today we are going to share 8 best new android apps that you must install on your android smartphone to enhance your overall android experience.
[dropcap]I[/dropcap]f you are an Android user then you must agree to the fact that exploring best android apps is really a difficult task because you have numbers of choices in Google play store. Either you need a great power saver app or keyboard app. But we are making it easy for you because we have compiled a great list which contains eight best apps that are worth a try. So, today we are going to share eight best new android apps of 2016 that you must install on your android phone.
Also Read: Top 10 Best Prank Android Apps for Trolling your Friends
8 Awesome New Android Apps You Should Check Out
With power monitoring, one-tap power saving and background app killer, 360 Battery Plus extends your device's standby time to avoid low battery, the power consumption of background apps and hardware and other scenarios to ensure your Android device stays in optimal condition. When you recharge your device, 360 Battery Plus can also help to reduce charging time and safeguard your battery, extending battery life effectively.
Features Of 360 Battery Plus
One-Tap Optimizer: Accurately detects and repairs battery draining problems; understands problem details and optimizes your device comprehensively.
Advanced Saving: Prevents apps from auto-starting secretly to avoid battery drains unnoticed.
Saving Modes: Automatically switch among smart power-saving modes and custom modes to improve performance and save battery
Also Read: Top 6 Best Android Apps For Downloading Free Music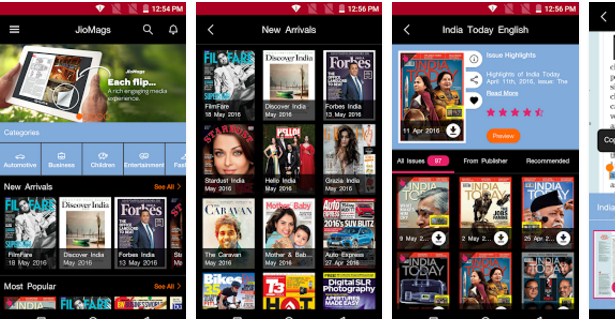 JioMags is the ultimate way to browse and read magazines on your tablet or smartphone. It is like your virtual library with an enormous collection of magazines across categories and in multiple languages- English, Hindi and Indian regional. It's like having your very own bookshelf with you, wherever you go.
Features Of JioMags
Personalize your magazine with annotations and bookmarks and download them for offline reading.
Interactive content inside magazines and use text-to-speech if you wish to be read to.
Sync downloaded content across all your devices.
3. FreePass
FreePass is the only LockScreen that provides you with free data to use on your mobile every day! Enable the FreePass LockScreen and receive free data credits to use in all your apps daily. They will show you beautiful and interesting ads in exchange for crediting you with free data.
Also Read: Top 8 Best Keyboard Apps For Your Android Smartphone
You can test your trivia skills with this app. Take the ride of knowledge on Donkey Quiz Game with fun and interesting trivia questions. Exercise your mind with educational multiplayer brain game. Challenge your friends to achieve the highest score in the trivia fun quiz.
Features Of Donkey Quiz
A free Multiplayer quiz game where for the first time, you can challenge your skills against up to 4 random players matched by us to compete against you.
Bid on your favorite category and challenge your friends or real-time players for the highest score and titles.
Test your knowledge on Bollywood, Mythology, Sports, Brands, Ads and explore your brain and mind with IQ quiz and much more categories.
Quote is a clean and modern news reader for your Feedly and Inoreader accounts. It simply connects with Feedly and helps you manage your Feeds effortlessly. You can easily mark your desired article and can read it with a simple swipe to the left.
Features Of Quote
Full screen reading experience
Painless navigation with simple gestures
Dark and light themes
Readability support
Articles and images caching for offline reading
Article thumbnails preview
Search and add new RSS feeds
Also Read: Best Android Apps To Identifying Music Playing Around You
Parallel space is the app which lets you run two instances of any installed app on your android smartphone. You can easily run two accounts of WhatsApp, Facebook, Hike etc. and the same time using Parallel Space. Moreover, this doesn't need root access.
Features Off Parallel Space
Double your gaming experience and have more fun.
Hide your favorite apps, invisible on your phone
Parallel Space is based on MultiDroid, the first application virtualization engine on Android
Sleep Better offers you a simple and engaging way to improve your sleep quality, whether you struggle to fall asleep, want to learn how your daytime activities influence your sleep efficiency or simply want some new smart alarm sounds to help you wake up feeling refreshed and ready to seize the day
Features Of Sleep Better
Track your sleep duration, cycles, and efficiency with the simple tap of a button
Make use of all sleep tracking features, even when in airplane mode, by simply setting your device on your bed
Use the Smart Alarm to wake up at the ideal time within your personalized Wake-Up Window
Also Read: Best Android Apps To Transfer Files Over Wifi With High Speed
Ginger offers tons of emoji, stickers, animated GIFs, themes and free in-app games, as well as advanced artificial Intelligence capabilities to analyze your text, learn your writing as you type and provide you with grammar, punctuation, and spelling corrections accordingly.
Features Of Ginger Keyboard
Grammar Checker and Spell Check
Emoji, Emoji Art, stickers and Animated GIFs
Word Prediction
Advanced sentence rephrasing
Also Read: 14 Best Calling Apps for Android You Must Have In Your Phone
So, above is all about the best new android apps of 2016, you can select any of the listed apps for installing it on your android smartphone. These apps will enhance your android experience. Hope you like our work, do share with others too. Leave a comment below if you want to suggest us some more apps like this.