It's no doubt that getting in shape is one of the best things that you can do for your body. However, getting in shape is never an easy process. First, we need to prepare our minds and follow a strict schedule to remain healthy and fit.
Getting in shape and implementing a healthy schedule can reduce the risk of health ailments like blood pressure, insomnia, cholesterol, etc. But, unfortunately, there are a few reports that suggest that smartphones can devastate our health. Although it's true that smartphones can ruin our health and can make us lazy, but what's also true is that they can also help you follow healthy habits.
Take a brief look at the Google Play Store; you will find tons of Android apps related to health & Fitness there. Furthermore, those apps have millions of downloads. That figure suggests that fitness and health-conscious people still exist, and they are already utilizing their smartphones for good.
Also read: Best Android Apps To Hide Photos & Videos
10 Best Exercise Apps For Android in 2021
So, in this article, we will share some of the best exercise apps for Android that can help you stay fit and healthy.
It is one of the best and top-rated Android exercise apps available on the Google Play Store that can help you stay fit. The app is excellent for those who have been looking to lose weight. As the name says, 7 Minute Workout provides workout routines that take no more than 7 minutes. In addition, 7 Minute Workout offers exercises to tone up the abs, chest, thighs, and legs.
It is one of the best and top-rated Android health & fitness app that you can use right now. Compared to other apps on the list, Pocket Yoga is straightforward to use. Its focus is only on Yoga practices. Each of the Yoga practices was divided into different sessions. Each of the sessions has a different duration and difficulty.
Water Drink Reminder is not an Android exercise app on the list, but it deserves to be on the list. Since water plays a vital role in improving our health, it becomes helpful to have such apps. Water Drink Reminder is one of the best self-improvement apps that reminds you to drink enough water.
As we all know, our brain plays an essential role in improving our health. So, Mind Games is indeed a great app to practice mental skills. The app provides users lots of Mindware's brain training games which could help to improve their mental abilities. So, with Mind Games, you can practice your brain's working memory and processing speed.
If you are searching for an effective fitness tracking app for your Android device, then Endomondo might be the best pick for you. You can use this app to track your running, walking, cycling, and 60+ other sports. To track your progress on the field, it uses your phone's GPS feature. Once tracked, it shows you some important information like distance covered, speed, calories burned, etc.
As the app's name says, Home Workout is another best workout app that you can use on your Android smartphone. The app claims that it can help you build muscles and keep Fitness in just a few days. The app has lots of warm-ups and stretching routines that can help you maintain a fit body.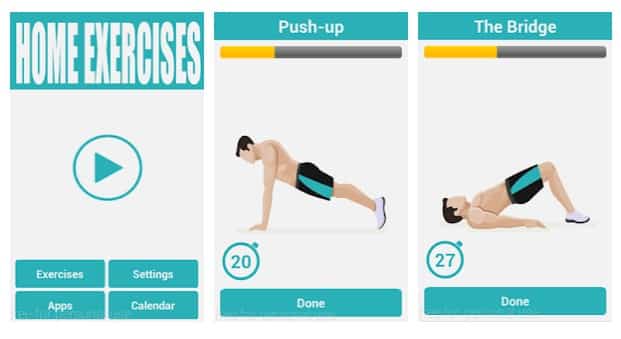 As the app's name says, 10 Full Body Exercises is another best exercise app for Android in 2020. Although the app is not much popular, it includes a full-body workout that will help you to burn fat, get abs, train your arms, etc. So, with 10 Full Body Exercises, you can make your body strong and healthy.
This is one of the best Women workout app that's available on the Google Play Store. The best thing about Female Fitness is that it has almost everything you need to train your body, burn calories, lose weight. Female Fitness offers users scientifically proven exercises to lose weight and improve overall health.
The name of the app says it all. If you are willing to get fit within 30 days, you need to give this app a try. The app consists of a 30-day fitness challenge that a professional fitness coach designs. Every exercise listed on the app was scientifically proven to improve your fitness level and health.
If you are searching for an Android fitness app to explore exercises with video support, you need to give Fitness & Bodybuilding a try. Guess what? Fitness & Bodybuilding offers a list of the most effective workouts for every muscle group. Not just that, but the app also offers text instructions with pictures for each exercise. Apart from that, Fitness & Bodybuilding also offers a built-in timer, built-in-calendar, etc.
So, these are the ten best exercise app that you can use on your Android smartphone. If you know of any other such apps, let us know in the comment box below. I hope this article helped you! Share it with your friends also.