If we look around, we will find that e-commerce sites are on the rise. Since most of the Indian e-commerce sites now have a cash-on-the-delivery feature, most of us do our shopping online. It's actually best to shop online because we can save some extra bucks while making the payments.
Almost all major e-commerce portals have their app published for iOS and Android on their respective app stores. You can use these mobile shopping apps to search for the products you need, add them to the cart, and check out within minutes.
So, in this article, we will share some of the best shopping apps for Android. You can easily find great deals and discounts while shopping with these apps. Let's check out.
Also Read: 10 Best Payment Gateways for Online Business
List of 10 Best Shopping Apps for Android
Important: Please note that these shopping apps serve in selected regions, not the whole world. So, make sure to install the shopping apps that are supported in your area.
If you are looking for a shopping app for Android to shop for vintage and homemade goods, give Etsy a try. Etsy is a shopping platform where you can find many handmade goods, vintage goods, creative goods, and custom goods.
Mainly the platform is used to purchase gift items for weddings, anniversaries, birthdays, holidays, and more. You will even find lots of DIY items on the platform.
Shopee may not be very popular, but it's still one of the best shopping apps for Android that you can try. This app allows you to browse and shop for items related to fashion, electronics, health & beauty, home & living, toys, and more.
Apart from regular shopping, Shopee is known for its deals section. The deals section of Shopee lists products that were available at up to 50% off discount.
Well, Amazon is right now the most popular e-commerce site in the world. It's also the most preferred online shopping platform from where you can find and buy anything. Amazon also has its separate page for Indians – Amazon.in.
The mobile app lets you access the Indian page of Amazon, from where you can quickly shop for stuff you want to buy online.
Flipkart only targets Indian customers, and it has its app for Android. The Flipkart App for Android comes with a great design, and it covers products from almost every category. Not just that, but Flipkart is also one of the top e-commerce sites in India right now.
Talking about the Flipkart app, the app covers almost all features, including tracking, ratings, and much more.
Although not as popular as Flipkart or Amazon, still, Snapdeal covers almost every product. Moreover, you will find some exclusive products on Snapdeal.
Talking about the mobile app, the Snapdeal app for Android comes with an excellent interface, and it covers over 65 million options to choose from. Apart from that, the service also offers a cash-on-delivery option.
The products that you will find on Paytm Mall also exist on other platforms, but Paytm Mall offers up to 80% cashback on its products. Not just that, but Paytm Mall also allows users to pay directly via Paytm Balance. The mobile app covers almost every product for your shopping needs.
It is one of the best e-commerce portals which you can trust. The Tata CLiQ is backed by Tata, which owns many companies like Tanishq, Fastrack, Croma, Voltas, etc. Tata CLiQ is an under-rated e-commerce portal, covering almost every product.
Talking about the Tata CLiQ Android app, the app looks stunning, and you can check your order status, purchase history, and other details.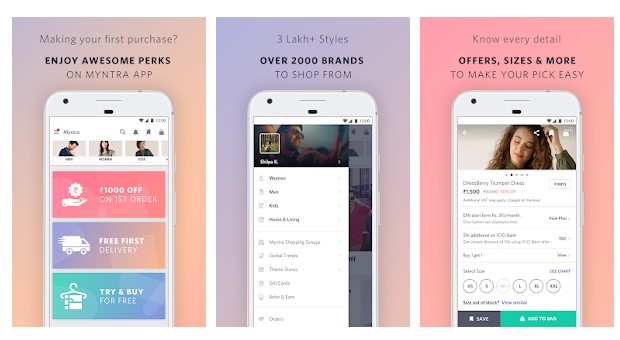 It is India's biggest online fashion & lifestyle store. The platform houses over 1 million products from over a thousand brands. So, if you are looking for a shopping site that only specializes in fashion, then Myntra might be the best choice for you.
The Android app for Myntra can be used to browse a wide range of products, and you can also track your order status.
Like Myntra, Jabong is another best shopping app for Android that you can use right now. The mobile app for Jabong has over 50,000+ products, and it has partnered with international brands to provide you best quality products.
The app's interface is great, and it's definitely the best shopping app that you can use today.
Well, Wish has been around for a long time. It's one of the oldest shopping apps available on the Google Play Store. The shopping portal connects merchants directly to shoppers. That simply means that there's no middleman and hidden charges. From the mobile app, you can explore over 4 million products.
So, these are the ten best shopping apps for India. From smartphones to shoes, these e-commerce sites have it all. If you know of any other Android shopping apps, then make sure to drop the name in the comments. I hope this article helped you! Please share it with your friends also.