Well, there's no doubt that Instagram is right now the most popular image-sharing platform in the world. Instagram also offers you a few social networking features like exchanging text messages, interacting with a post, and voice/video calling.
From businesses to individuals to part-time bloggers, the platform is today used by almost everyone. If you are a part-time blogger or have a personal blog, you can add it to your Instagram Bio to drive some social media traffic.
Even if you don't plan to drive traffic to your blog via Instagram, you can still add a personal blog tag to your profile to make it look more professional. And it's pretty easy to put a personal blog on your Instagram handle.
Also read: How to Upload Photos On Instagram Without Cropping
Convert Profile to Personal Blog on Instagram (2022)
Hence, if you are interested in adding your blog on Instagram, you have landed on the right page. In this article, we will share a few best ways to add a personal blog on Instagram. Let's get started.
1. First, open your Android app drawer and the Instagram app.
2. When the app opens, tap on the profile icon in the bottom right corner.
3. On the profile page, tap on the Edit Profile button, as shown below.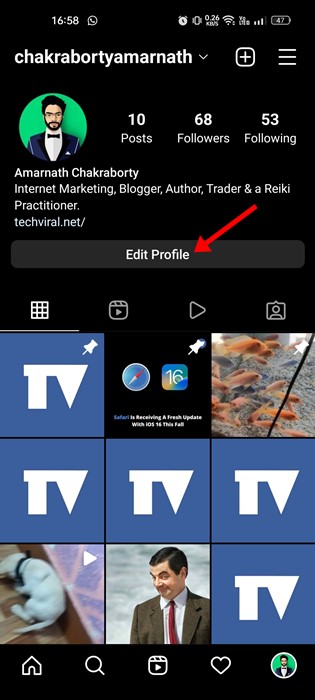 4. Now, tap on the Switch to Professional Account on the Edit profile page.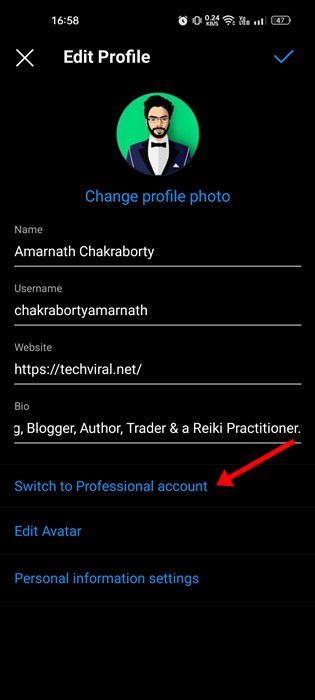 5. On the Get Professional tools screen, tap on Continue.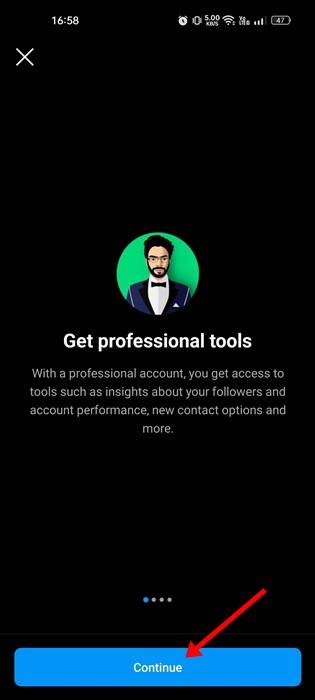 6. On the Category page, select the category that best describes you. To show the Personal Blog option in the profile section, you need to use the search bar and type in Personal Blog. Next, select the Personal Blog category from the list of options.
7. Once selected, enable the toggle for 'Display on Profile' and tap on the Next button.
8. On Are you a creator? screen, tap on the Creator option, and tap on Next.
9. Now, you will see the Set Up Your Professional Account screen. This is an optional step, and you can complete it later. To skip the screen, tap on the X button at the top-right corner.
10. Now, move back to your profile page. You will see 'Personal blog' listed just below your profile picture.
That's it! This is how you can put a personal blog category on your Instagram account.
Also Read: How to Recover Deleted Instagram Photos & Videos on Android
So, this guide is about how to put a personal blog on Instagram. You can edit the profile page and add the URL of your blog to the website section. If you need more help, let us know in the comments below.