Here are Top 10 Best VR Apps for iPhone: This could be very difficult to find the best VR apps out of various apps on the market.Here in this article we has listed some of the best VR apps for iPhone, just search for these on your app store and download these great apps.
[dropcap]V[/dropcap]R (Virtual Reality) is now the most trending feature that is integrated in the apps for Android as well as iOS. The apps that are using this feature provide the exceptional viewing experience and also the on-screen details look very natural. Not every app is having this VR feature set inside but most of the new apps that are now being launched do have this up.For iPhone users there are many such apps that they can download from the official Apple store.
Also Read: Top 5 Best iPhone Apps For Developers and Programmers
Below are the 10 Best VR apps for the iPhone
Below we had selected some of the best apps that you will surely love to use in your iOS device. So give a try to all these apps.
#1 Virtual Kaiju 3D
This is a game inspired by the Godzilla films and in this game you control the one of the giant beasts.This game provides VR experience and hence you get really great view of the graphical infrastructure of the game. Just try this game and you will find it really awesome in case of viewing details that are powered by VR.
Also Read: How To Quickly Track And Find Your Lost iPhone or iPad
In this game the user plays as a very small sized one who enters the nerves of the patient and then look up for red neurons. This is a fair gameplay that you will love after some time usage. The main thing about this game is the looks that feel realistic because of the VR feature.
Also read: How To Unlock or Bypass Any iPhone Passcode
Lead up the battelion and aim to destroy as many tanks you can by just viewing at them.This paid app is really great for those who love tanks and love to play with them and fire them up.You lead through the deserts and go on gaining points whenever you destroy any tank.The experience is great and you shall end up long with this game.
Also Read: How to Make a Fake Incoming Calls on Android and iPhone
As the name suggests, in this game the user plays the role life of a frog.All you has to do is control as a frog and eat flies, hopping to different places may be it is a tree, pond or anything that you can think of a frog life.The graphics are very simple but still the game feels really addictive.
Also read: Top 10 Best iPhone Apps for Beginners
The best storytelling type of game in which you can play up different stories.This game has a huge potential and is the best attempt so far with this exciting new medium.Just give this game a try and know about its VR capabilities that it has to offer you.
Also Read: How To Hide Photos And Videos On iPhone
A Virtual Reality Ghost Story:Horror game with VR support makes the very frightening tensed environment in the whole gameplay.If you love to play horror games then you should give this a sure try as this game with VR provides great experience although the graphics does not match the high end value.
Also Read: How To Increase iPhone Battery Life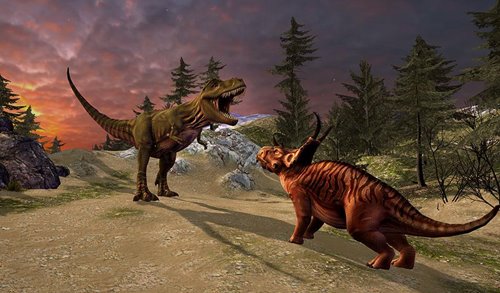 Look around in 360 degrees view to watch the dinasoures around you. In this app you are on a trip where you visit the world of dinasoures and take a look on their different species.With VR facility this app provides realistic experience and you will really enjoy using it.
Also Read: How To Unlock Windows Computer from Android/iPhone
In this game you just has to move the screenplay towards the enemies that are zombies and it will automatically shoot them up.You play this game on VR mode that means that you get the great viewing experience.This awsome game could be the choice for you if you love to play the Zombie games.
Also Read: How To Control Your TV Using Your Android & iOS Device
Take small shoots with your camera and then change them to VR with this amazing app.You can make small VR clips with this app and export them to your device easily.Try this app to make the great short clips that are in VR mode.
Also Read: Top 10 Best Google Cardboard Apps
This game is a great demonstration of technology in which you get to experience the merry-go-style rides you will probabelly see at the theme parks etc.Download this one to have a real look at the fantastic ride without the gravity but with VR that makes it feel realistic.
Also Read: Best iPhone Tricks & iPhone Hacks
So these were the best VR apps that you can enjoy on your iPhone and get the great VR experience. These apps are selected by their performance and features as well as the viewing experience these apps provide to the users. You can get these apps that are of different categories and play with them all along using the VR feature. Go and grab these app on your iPhone and enjoy them up.