As of now, there are hundreds of system cleaning programs available for the Windows operating system. Even the latest versions of Windows come with a disk cleaning utility known as Storage Sense.
The Storage Sense on Windows works by deleting temporary and junk files from your system. Also, you can configure storage sense to delete recycle bin items automatically.
However, clearing recycle bin and junk files is sometimes not enough. Sometimes, users need to go one step ahead and clean all leftover files, folders, hidden junk files, and more.
This is where third-party system cleaners come into play. With a System cleaner utility, you can find and remove apps leftovers, junk files, temp files, outdated cache files, etc.
Hence, in this article, we will talk about one of the best system cleaners for Windows, known as Bleachbit. So, let's check out everything about Bleachbit for Windows PC.
What is Bleachbit?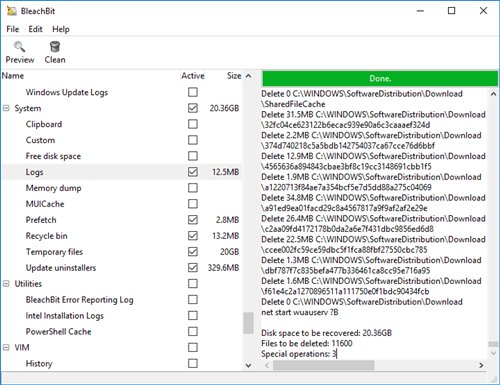 Unlike CCleaner and PC Decrapifier, which asks you to purchase a license to avail of the full features, Bleachbit remains completely free – from the start to the very end. Bleachbit is a free and open-source disk space cleaner, privacy manager, and computer system optimizer.
Since the software is open-sourced, it doesn't come with any ads and works pretty well, even on Linux. In addition, it can delete cache, temporary files, junk files, cookies, etc., from your PC in just one click.
Despite being free software, Bleachbit offers you several advanced features for professionals. The software is pretty lightweight, and it comes with an easy-to-use user interface.
Features of Bleachbit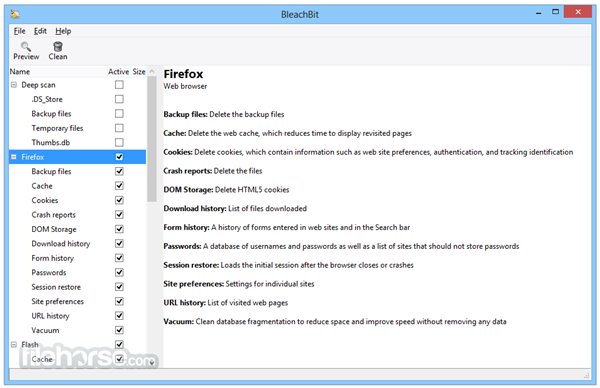 Now that you are fully aware of Bleachbit, you might want to know its features. Below, we have highlighted some of the best features of Bleachbit for Windows. Let's check out.
Free & Open Source
As we have mentioned above, Bleachbit is entirely free to download and install. There are no hidden charges or ads. Also, the software is open-sourced; hence, it doesn't show ads and works fine on Linux.
Free Disk Space
One can use Bleachbit to free up some storage space. It can clear junk files, temporary files, apps leftovers, etc., to free up disk space. You can run system cleaning periodically to ensure better performance.
Clean Web Browser's Temp Files
One of the best features of Bleachbit is the ability to clean temporary files of web browsers. Bleachbit can quickly clear the temporary files of Chrome, Edge, Firefox, and many other web browsers.
Create Disk Images for Compression
You can use Bleachbit to prepare whole disk images for compression, commonly for ghost backups and virtual machines. You can do so by wiping the free disk space via Bleachbit.
Command Line Interface
Well, Bleachbit can be operated via the command line as well. The app offers a command-line interface for scripting and automation. You can even write your own cleaners using CleanerML.
So, these are some of the great features of Bleachbit for PC. It has more features that you can explore while using the program on your PC.
Download Bleachbit Latest Version for PC
Now that you are fully aware of Bleachbit, you might want to download and install the program on your PC. Please note that Bleachbit is a free program; hence it can be downloaded for free from its official website.
However, if you want to install Bleachbit on multiple systems, it's best to use the Bleachbit offline installer. Below, we have shared the latest version of the Bleachbit offline installer for PC.
The file that we have shared is free from virus/malware and is entirely safe to download and use. So, let's get to the Bleachbit download links.
How to install Bleachbit on PC
Well, Bleachbit is pretty easy to install, especially on Windows operating system. First of all, download the Bleachbit installation file that we have shared above.
Once downloaded, open the folder and run the Bleachbit installation file. Next, follow the on-screen instructions to complete the installation process. Once installed, you will be able to use the program on your PC.
Bleachbit also has a portable version that can be used without installation. We have also shared the Bleachbit Portable version download link.
So, this guide is all about downloading Bleachbit for PC. I hope this article helped you! Please share it with your friends also. If you have any doubts related to this, let us know in the comment box below.