Today we are here with some amazing tips and tricks for Android Google Maps app that you might not have tried till now, these tricks will help you in navigation and automating your routing tasks with great ease and also some of the additional features that you don't even know these app can do.
[dropcap]G[/dropcap]oogle Maps is one of the best navigation services that you can ever find on the internet as through this service, one can easily find up the most accurate locations of nearby hotels, laundries, parks, restaurants, stations and much more easily. With all its features, you can also remain updated about the routes and the places and not only that, you can also do all that at very high speed ( It matters a lot ). Although till now the Google maps is full of all the needed potential that anyone can tend to get from any navigation service but still you can try to boost it's valued to another level so as to get more and more out of it much easily. You can put on some tricks and tips to boost up the Google Maps on Android and get out more benefits from this service, to know about some of the best tricks and tips for Google Maps on Android head towards the article given below.
10 Tips and Tricks for Google Maps On Android
Below is the collection of all the tips and tricks that you need to do in you Android mobile to get more out of Google maps app on your device.
#1 Adding Multiple Stops to your Route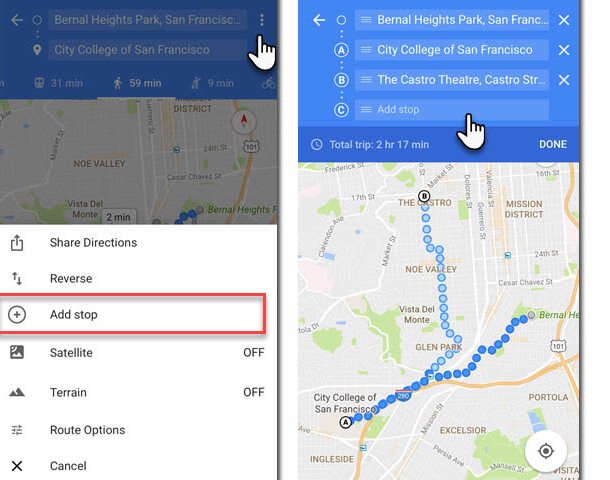 You can use the Maps to enter your current location and your destination and the Google Maps will automatically get up the route for your destination. If you want to go through some alter ways or through some fluctuated way out then you can also reorder your route by using up the three-dot menu and then selecting the hamburger icon under it. Drag and rearrange your route after that.
#2 Get on Street View
Long tap on the location which you want to see in street view while using Google Maps on mobile devices, then tap once on the card menu that appears below on the screen and then choose up the location picture. The street view can actually give you more detailed look of the place and hence help you lots to find your exact destination.
Also Read: 10 Apps That Will Transform your Android Into A Professional Camera
#3  Send directions (PC to Phone)
Sign into your Google Account on your PC and then open up the Google Maps, find up the directions for your route or for any place and then from the options on the card menu you can send up that particular route to your mobile device by clicking on " Send to Device".
You know that moving through Maps feel lots easier on PC's big screen than on smartphone so you can use this feature to find the exact route and location of any place and then send all that data to your smartphone's Google Maps.
Also Read: How To Make Google Chrome Faster For Web Browsing
#4 Use Google Now Commands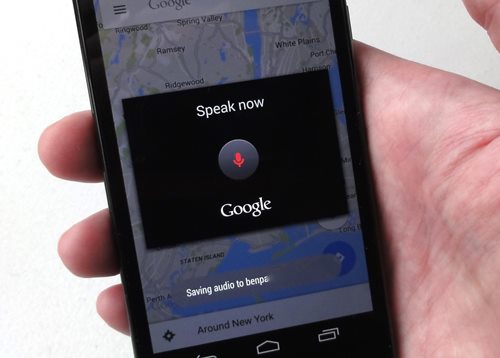 While driving the car, you may find it very difficult to keep in touch with the Google Maps on your smart device (if your car doesn't have GPS, Maps) as you cannot give it up the commands. But there is the thing that can make your task much easier, just speak up the Google Now commands to the Google Maps on your mobile device and it will follow these all.
Supported commands:

"Avoid Tolls"
"Avoid Highways"
"Avoid ferries"
"Allow …above things"
"Find Gas Stations"
"Show Alternate Routes"
#5 Use Maps Offline
Do you know that you can easily download up to the loaded maps for using in-network ban conditions or for much fast and flexible surfing as nothing can be fast than offline browsing. So just download up to the map for your route and then access it offline, you can save lots of time by doing so.
#6 Track Visited Locations
While using up the Google Maps, it constantly traces your visited locations and saves them to your timeline. This could be very helpful for you too if you get lost in the middle of the route while going to your destination. To recheck your visited places, go to your timeline from the hamburger menu (slide it from the left edge of the screen).
Also Read: Top 30+ Best Google Tricks and Tips 2016
#7 Zoom Easily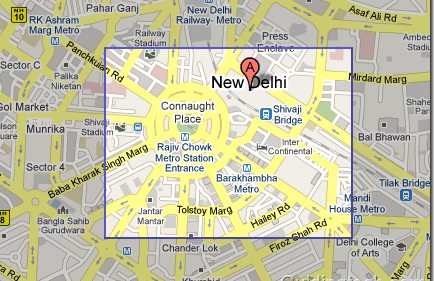 Zooming into the map is quite helpful but the thing that could be causing the smooth experience with the maps is the way by which it could be done in the Google Maps. To get the Zoom functions into action fastly and easily, just double tap with any finger and hold the finger on the screen, now move that finger up or down to zoom in or out of that particular location where you tapped.
#8 See Your Speed & Speed Limits
With Google maps app in your Android, you can also check the speed of your current vehicle and also the speed limit of the road and for that, you need an additional third party app to be installed on your Android phone for this. And the app that you will install in your device is Velociraptor – Map Speed Limit. Use this app and have fun with your Google maps with speed indicators.
#9 Plan Trips With Google Maps
Now you can easily check the public traffic status when you are planning for any trip as  your Google maps will help you in this. You just need to navigate to public transportation tab, then tap the "Depart At" button and there you can set the arrive at and you can easily check the traffic and other related things. So must try this out today.
Also Read: 10 Things To Do Before Rooting Your Android Device
With Google maps, you can even navigate inside malls and easily find the places for food, shopping and all other with the app you just need to zoom into the mall's area to get the whole details of the present architectures.
So, these were the things that you can apply to your Google Maps on the Android device, after applying all these things you can actually get much more useful Maps service with more control and functionality. Just follow up the tricks and tips from the above article and apply these to your Android Google Maps to enjoy up to the benefits!