Here are Top 10 Best Youtube Android App Tricks and Tips 2019: Get best out of your Youtube official App with some of the best youtube app tricks and tips that you might now know, and will help you to make your video streaming better with lots of cool choices.
[dropcap]W[/dropcap]e all prefer to use Youtube android app for watching Youtube Videos on the Android mobile phone. And today there are lots of features that have been added to official YouTube app that makes the user interface cooler. But you might not know some of the cool tips and tricks that you can do with YouTube's official app. And here we are going to discuss the same. So have a look at complete guide discussed below to proceed.
Also Read: How to Play YouTube Videos Faster Without Buffering
Top 10 Best Youtube Android App Tricks and Tips 2019
Below are the some of the cool tips and tricks that you will surely love to try your Youtube app. So have a look at these tips below.
Also Read: How To Record Desktop Screen with Youtube
#1 Enable Limit Mobile Data Usage and Save your Data
You can now easily save your mobile data by just going through settings in Youtube Android App. Select and Open Youtube settings and choose General section. Under this, You will found limit mobile data usage and enable it. By this, you can easily save your mobile data.
Also read: How to Remove Bloatware (Pre-Installed Apps) from Android Device
#2 Enable Stats for Nerds and View info about Video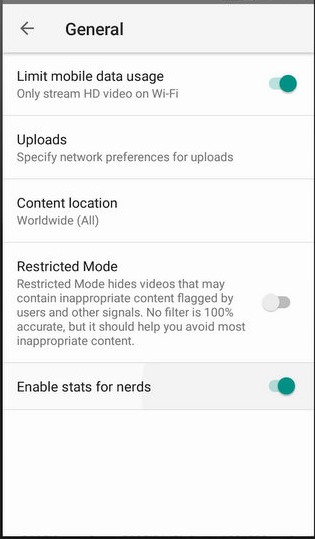 By enabling Stats button , you can view and get about any video. You will found this button in Youtube General Settings. Enable the option "Enable stats for nerds".
Now in youtube android app, open any video. Either select three dots or menu button and select stats option.  Now you can view video stats with bundle of information in your android mobile phone.
Also read: Top 15 Best Android Launchers That Is Worth A Try
#3 Change Youtube Video Quality
Again, to change the quality, visit the youtube android app. Tap on three dots and select quality. You can choose Quality of the video you want to play in youtube player.
Note: Do notice that if you enable limit mobile data usage in settings, then you can't see 720 pixel video quality in this settings.
Also read: Top 6 Best Android Apps For Downloading Free Music
#4 Add Videos in Watch Later Playlist
If you are busy and didn't have time to watch the youtube video, you can add that particular video to your watch later playlist. tap on =+ this icon and save this video in our watch later playlist.
Also Read: Top 10+ Ultimate Hidden Tricks and Features Of Android
#5 Watch 360 Degree Video on Youtube
Search 360 Degrees Videos in youtube app. Select 360 Degree video and channel and enjoy to the fullest 360-degree videos on your android phone. You can even move your phone in any direction for seeing 360-degree videos on the phone.
Also read: Top 10 Best Root Apps 2016 for Android
#6 Control Youtube Android App Notifications
Open Youtube settings and select Notifications. Here you can enable and even disable youtube app notifications. Disable it, if you don't have any interest towards too many mobile notifications.
Also Read: How To Password Protect Any Files & Folder In Android
#7 Save Youtube Video for Offline Watching
You can even download Youtube Video in your android mobile phone from Offline feature available in Youtube. Open any youtube video and see download button present below the video. Just tap on it and select the video quality. Click on Ok and your video will be downloaded on your phone.
Also Read: How To Make Your Android Device Boot Faster
#8 View Youtube Video in VR Headset
If you have preference to use VR Headset and want to play videos in VR mode. Just open any youtube video and select three dots from the right side. Now choose Cardboard option and your current video will be start playing in VR mode.
#9 Clear Youtube Android App Search History
Cleaning your dirty youtube search history is too simple to do. Open Youtube Android app settings. Select Privacy section and under this, select clear search history. By this your all search history will be cleared from your android phone.
Also Read: Top 12 Best Android Hacking Apps
#10 Change Country/Content-Location in Youtube Android App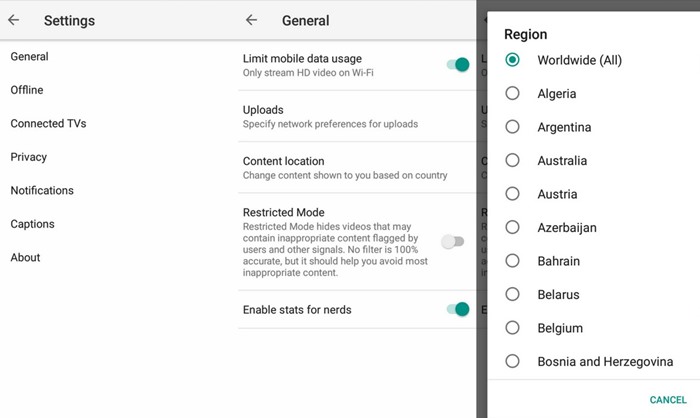 You even have the facility to see country based videos in your youtube app from changing content location. It provides you a restriction that you can view country restricted videos in your android app.  All you need to perform is open your yotube android app settings.
Settings>> General >> Content Location and select country.
Also Read: How to Download YouTube Videos Easily with a Simple URL Edit
So above are the 10 Youtube Android App Tricks and Tips. With these tips you might have learned lot of cool things of which you were not aware. Keep on sharing with others too. Leave a  comment below if you have any related queries with this.