Let's look at the Best DJ Mixing or Trance Making Apps For Android & iOS that are specially made for music lovers who want to make some fantastic music right on their smartphone with the apps we will discuss here. So have a look at the guide discussed below to proceed.
Till now, you have read lots of guides where we have discussed lots of apps that you can use on your smartphone that helps in day-to-day life things, and now I'm again here with some of the best apps that you can use for some amazing things that are DJ Mixing and Trance Making. Many of you must-be music lovers like me, and I love mixing music to get the best out of the mixing.
Previously I used some apps on my PC to combine my favorite songs. But now, the smartphone has replaced PC usage, which was why I was looking for the best apps I can use to mix up the pieces that can be used to mix up the music. And I was researching the apps that can do this job. I got to know about a few apps that were able to do this job, but I wanted to get the best of them so that I could do things amazingly. So I tried 9-10 apps to get the best out of them. Well, I got some fantastic apps that I used to mix up the music according to my wish.
Also Read: Best Android Emulators
I was looking for apps that can work on both Android and iPhone so that I can be on the same on both devices. So I filtered out the apps that can work on both platforms. Also, my friends are crazy about mixing music and tell me about some apps they use. There should not be a beat-off mixing, so I was taking care of that things.
Best DJ Mixing or Trance-Making Apps For Android & iOS Devices
Below are the apps with the downloading links and the screenshot. Try them all, as everyone has a different taste, which is why you can get the apps you will love.
Also Read: Best File Managers For Your Android Smartphone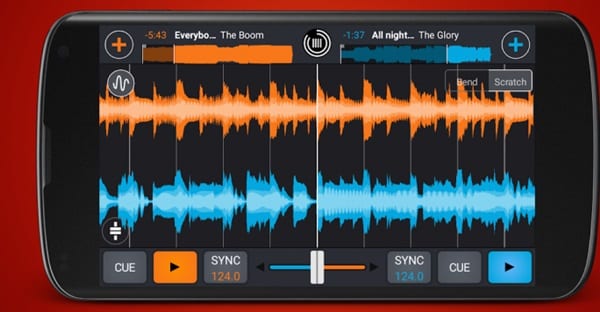 This is one of the best apps I tried at first, and I liked this app. This app has some fantastic features, like the Automix feature that automatically syncs the music you select. Also, there is another mixing feature that you will surely love. So must try this app out.
This is the app recommended by my friend who keeps mixing his favorite music. This app has 2 channel mixers and 2 fully featured virtual decks that will give a fantastic effect while mixing up the track.
This is an app that doesn't have any third-party parts. Every single component is researched, developed, and fine-tuned in-house, giving fantastic mixing quality. So must try out this app.
This fantastic app will convert your Android & iOS device into an authentic miniature mixer, and you will see tremendous mixing effects on your device. And can directly share and download the tracks. I hope you will surely love this app.
Pyro runs things using our intelligent suggestions, as this app is made for. Just choose one song, and Pyro will pick pieces from Spotify's extensive catalog to mix into. So open the apps, select your favorite songs from the list, and then see the fantastic mixing experience you would love to share with your friends and play around parties.
Also Read: How To Find Indian Vehicle Information On Your Android & iPhone.
So above are the Best DJ Mixer Apps or Trance Making Apps For Android & iOS; use the excellent app that can help you mix up some fantastic music tracks to get the best out of them by automated mixing using these free apps. So you must try out them all and then choose the one that you love to try out.
I hope you like the information and the apps I shared. We write things with personal experience to get what we want, as we like them. Also, share these with your friends so they can use these apps and get things mixed. If you have any related queries with this, then comment below. I'll be there to assist you. Also, if you have any new topic, let me know, and I'll write about it.